September 14, 2014
Goodbye Provence, Hello Barcelona and Pakta
We got up early and drove through Beziers for breakfast.  We were going to stop in Arles but after having zero luck in finding a parking place we drove on.  This was our last meal in France.
In order to truly move from one head to the other on our drive we listened to A Year in Provence by Peter Mayle on our drive to Barcelona.  Mayle is the one who reads the book so hearing his British accent about his experience in Provence among the France was a delight.  I remember reading the book when it came out in 1989.  This book  set a new standard for travel/food books that are now in abundance.  You follow his personal journey of that year that him and his wife moved to Provence and renovated an old farm house.  His relationships with all the characters in the community are hilarious.  It was a perfect ending to our time in Provence.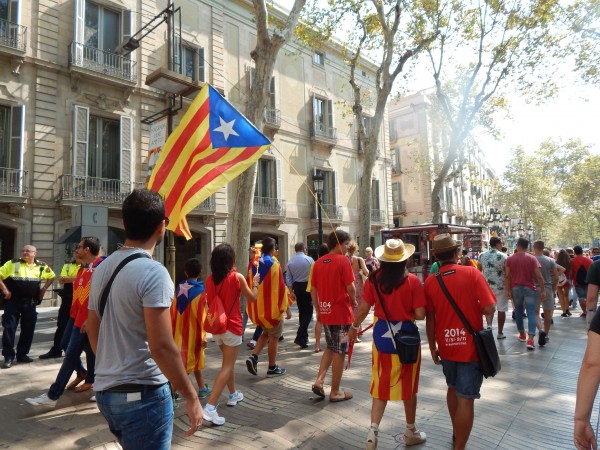 Perhaps an amateur moment but little did we know that 9/11 was a national holiday in Spain.  For us, it is a time of annual reflection and one that I recall everything about that day as if it were yesterday.  In Barcelona there was a tremendous protest from the Catalan Separatist Movement.  The streets were crazy and nothing was open.  At least nothing we wanted to go to.  We walked along the streets, saw the protests, checked out a few Gaudi buildings and took a long nap.
Dinner tonight was at Pakta.  Patka part of the Albert and Ferran Adria (elBulli) group.  The Adria brothers have entered into partnerships with 5 different chefs to create restaurants with unique culinary concepts.  Pakta is combination of Japanese and Peruvian cuisines.  The restaurant has been open for 18 months.  We spent sometime talking to the incredibly humble chef Jorge Munoz from Peru who is all of 28 years old.  The other chef who we did not talk to was a woman yet we watched her prepare many dishes.  Nice seeing a woman behind the counter who is heading up the Japanese menu, Kyoko Li.   We also spent some time talking to the head waiter.
There are two menus.  Each have the same amount of food on it but the larger one has more dishes.  We opted for that one.  The food just keeps coming.  Here is my only thing about these insane 21 dish events is that sometimes less is best.  The meal was superb but I would have liked to leave feeling less overwhelmed and wanting to come back for more.  The chefs are so creative and they can't help themselves but sometimes it would be ok if they did.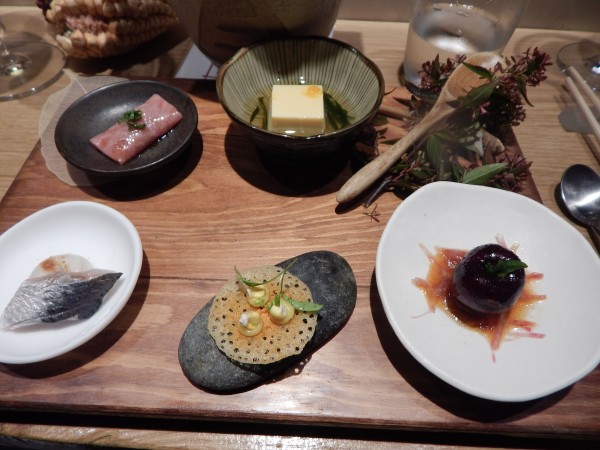 Here comes the food.  I won't be able to remember every nuance but here goes.  You start off with a tasting of 5 items.  The server comes over with a pointing utensil wrapped in Peruvian colors and points to each piece on the dish.  She told us in what order to eat the and with what utensil.  It is quite brilliant.  Toro with a spicy gel, Tamago-dofu (egg custard with this slight hint or orange), corn tuile (like a parmesan crisp dotted with a spicy cream), smoked sardine with mashed satoimo and miso (like mashed potatoes) and a cherry with kimchi.  Each taste was a serious explosion in the mouth.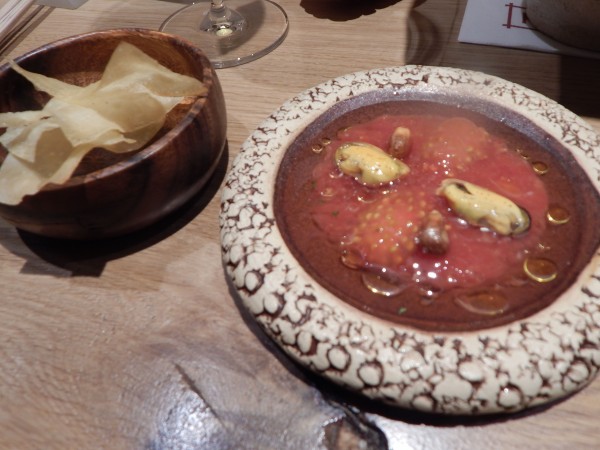 Chalaca with yucca chips.  Chalaca is basically a fresh tomato salsa and this had two smoked mussels in the sauce.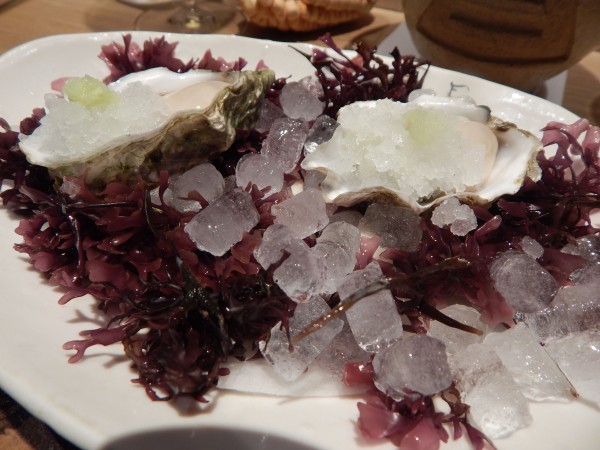 Oysters with wasabi and ice apple.  We just tossed these back.  Perfectly plump oysters that tasted like that had just been plucked from the ocean and the wasabi ice freezes your mouth.  Wow.
Crispy yucca with huancaina sauce.   These are like yucca cream puffs.  Crispy treats filled with a creamy sauce with a hint of spice that lingers long after you eat it.
These next two dishes were related.  First they bring out the deep fried prawns (the whole thing is edible) and you dip it in the spicy sauce.  They do this at Blue Ribbon Sushi too.  They bring the body out later fully fried.
Then out comes the prawns each sliced into two separate pieces (one is mine and the other one is Fred's) sitting in a similar type of spicy sauce.  This was outstanding.
The next three dishes are called the Nigiris.  White fish with a smoked amarillo sauce, tuna with a light anticuchera sauce and a white salmon with an aburi sauce.  Each of these pieces were delicious and the sauces just took the fish to another level.
Slices of mackerel with roasted sweet potatoes, cilantro oil and pickled shallots.  This was my least favorite.  Super subtle.  Here is a dish that I could have done without.  They asked us our opinion to see what we thought because it just got on the menu.
Ceviche of guanabana fruit.  Pieces of raw white fish with toasted corn sitting in a fruit sauce.   A unique twist on ceviche.
The next few fishes are called the Causas.  Squid maki causa with soy sauce and mentaiko.  A few layers here.  The black squid maki layered with a piece of white fish and a few different sauces.  The other is a fried causa with chicken and huacatay.  Deep fried pulled chicken with a rich cold dip on top.
Cannata Sanguchito.  So sorry the picture is blurry here because this was out of this world.  Super crispy sliced pieces of suckling pig inside of a light airy bun.  A much better version of a classic pork bun.  I could have eaten several of these.
The pork bun was served along with these pork gyoza dumplings with a ponzu sauce.  Really good and definitely tasted Japanese.
Veal tataki with a lomo saltado ponzu.  This took us back to Italy.  Veal carpaccio with crispy sour potato chips and a lemon ponzu sauce over the top.
Soba noodles.  I really liked how this was served.  A plate of cold soba noodles and a bowl for dipping them.  A spicy pepper sauce over a cilantro sauce.
No we are not done.  We are working our way towards the finish.  This was brilliant.  They called it warm ceviche.  A banana leaf filled with a thick vegetable root paste and right before they wrap up the leaf they put in raw fish.   There are some pine nuts in there too and the warm rich paste with the light white raw fish is an amazing combination.  I scraped the banana leaf clean.
Grilled spicy pieces of chicken and a roasted potato.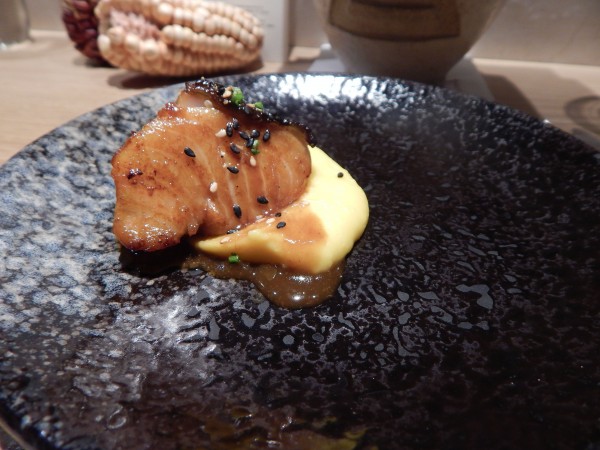 Roasted blackfish with a escabeche sauce.  This reminds me of the classic black cod dish that made its way on to many menus after making its appearance at Nobu.
Layers of roasted eggplant topped with a foie gras cream.   Not sure why this is dark.
Now we move into the desserts.  Steamed cake stuffed with a ginger cream.  Green tea sandwich with a shikwasa and vanilla ice cream inside.  Sweet potato picarones with a cinnamon honey.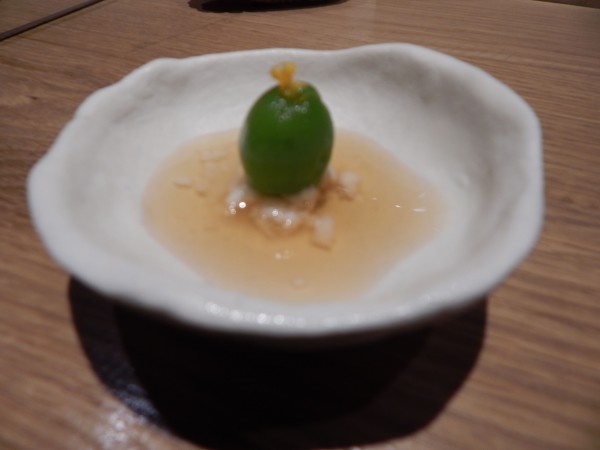 This was a sweet/sour peach.  Never have seen this before.  Served in a koji sauce.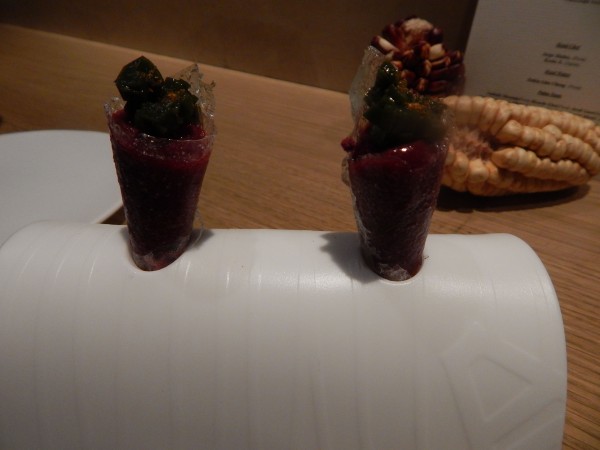 Crystal (literally gets stuck in your teeth) cone with raspberry-chica (purple corn that is a constant in Peru) with verbena tea.
Wild quinoa stick that was really interesting and tasty.  White chocolate and tea square.  Chocolate rocks.  We spent some time talking to who I believe was the head waiter about the length of the meal.  He talked about the first restaurant that was opened of the 5 called 41 Degrees Experience.  41 for 41 courses.  He agreed with us or at least he seemed to that it was just too much.  Regardless, if you are in Barcelona and love Japanese food this is a very worthy experience.  The dishes were unique, delicious and incredibly well prepared.  We waddled back to the hotel