October 30, 2014
Dear White People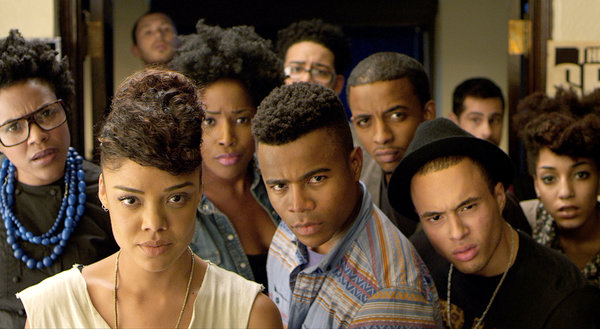 We see movies all the time but I rarely write about them.  Dear White People is in a separate category.  I now know why A.O. Scott, the movie reviewer at the NYTimes wrote that every person should see this film, period.
The film is Justin Simien's first feature film and I can hardly wait to see what he makes next.  It is a comedy set on a college campus hitting on issues from race, privilege, power and diversity.  Dear White People is a radio show that is run by one of the main characters of the film, Samantha.  She herself is a product of a mixed marriage.  The show pokes at the encounters that black people feel daily in their ongoing life that white people never have to deal with such as not being served timely in a restaurant, the conversation around their hair, their lack of power on the campus.  It is funny and poignant yet uncomfortable.
The timing of Dear White People could not be more perfect.  The underlying issues on race in America continue to hit us smack in the face every day.  Ferguson, MO is dealing with the aftermath of a white policeman shooting an unarmed young black man at close range. A city with a large population of African Americans run by white Americans.  Thank god the 57 year old white man in Florida was just sentenced to life for shooting a young black man sitting in his car unarmed because his music was blaring too loud and he refused to turn it down.  What happened in Florida where Trayvon Martin was shot by George Zimmerman has race issues written all over it.  You can not help but wonder if Obama was a white man would he get the amount of turbulence and push back from the GOP and others if he was not black.
The film is beyond smart.  Undertones of so many issues in this clever comedy such as the power issues between blacks, the power issues among whites, interracial relationships, struggles of black men who want to succeed in an overpowered white mans world instead of being honest to themselves, growing up with different values and even different cuisines, being black and gay, being gay, false power that comes with privilege, diversity that is questionable, etc.  Each of the individuals in this movie are stereotypes but stand on their own two feet and Simien portrays them all in a clever way.
Dear White People is funny, well written and fun to watch yet the undertones of racism are all over the place.  It is a movie to see and a movie to be talked about and I hope it is discussed for years to come.  Simien's voice is saying something to all of us loud and clear not only to the dear white people but also to the dear black people.