October 25, 2014
Lemon Pistachio Cake, Huckleberry Cookbook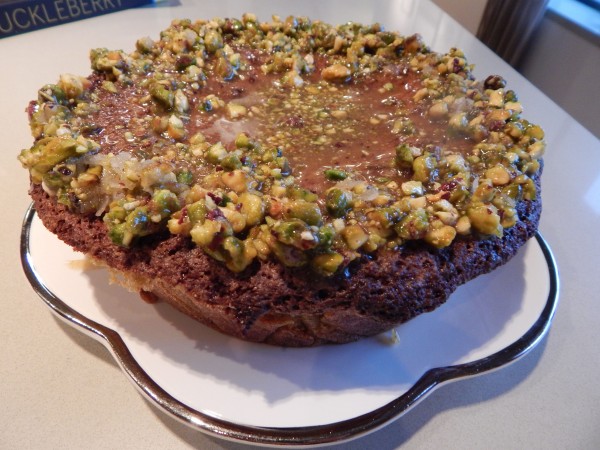 One of my favorite haunts in Los Angeles is Huckleberry Cafe.  The vibe is so LA and the baked goods are seriously off the charts.  Breakfast is my favorite meal there.  I was out there recently and saw their cookbook for sale.  It was calling out my name.  I read the entire book cover to cover on the way back to NYC.  I got inspired to bake up some goodies for the kids who returned for their fall break.
I have been looking for a lemon pistachio cake recipe after tasting the one at Brooklyn Larder which I dreamt about for weeks on end.  This one is just as good.  Some of my favorite ingredients; pistachios and lemons.
1 3/4 cups + 2 tbsp unsalted butter at room temperature.
2 1/2 cups sugar
2 1/2 tsp kosher salt
zest of 3 lemons
1 tsp vanilla extract
8 eggs
2 cups grounded pistachios
2 cups almond meal  ( I used almond flour )
3/4 cup all-purpose flour
2 tsp. baking powder
Glaze:
1/2 cup toasted chopped pistachios
1/2 cup sugar
1/2 cup freshly squeezed lemon juice
Heat the oven to 350.  Line and grease a 10″ round cake pan.  I only had an 8 inch so the cake dripped over in the oven.  I immediately bought a 10 inch for future use.  The beauty of the internet.
Cream the butter, sugar, salt and lemon zest until light and fluffy.  Add the vanilla and eggs ( one at a time and beating well after each putting in each egg ).  Scrape the sides well and then add in the grounded pistachios, almond meal, flour and baking powder on a low speed.  Mix until just incorporated.
Put into the cake pan and bake for about an hour (until the tester comes out clean).  I over baked the cake just a bit but it worked out fine.
While the cake is cooling make the glaze.  Simmer the pistachios, sugar and lemon juice together until the pistachios are completely coated.
Take the cake out of the pan when cooled, flip over and dribble the glaze over the top.  I used an flat icing utensil to spread the glaze over the top.
Serve.  A real winner!