November 13, 2019
Anton's
Anton's has taken over the Frankie's spot on Hudson with a different vibe and menu. The chef and new owner Nick Anderer named the restaurant after his great-great-grandfather creating a menu that is modern with a nod to the past. His sidekick is Natalie Johnson who runs the front of the house. We have been twice to taste and dine. The menu is great, the food is delicious and we might find ourselves eating there once a week when we are in town.
There are many highlights but here is a few things we ate at dinner which I am excited about having again. The oysters are delicious, both raw and broiled with ginger broth and bread crumbs. The red eggplant roasted and pureed with roasted red peppers and spices with toasted baguettes on the side could be slathered on anything. Delicious.
Chicory salad with spots of stilton and macadamia nuts is light and intense at the same time.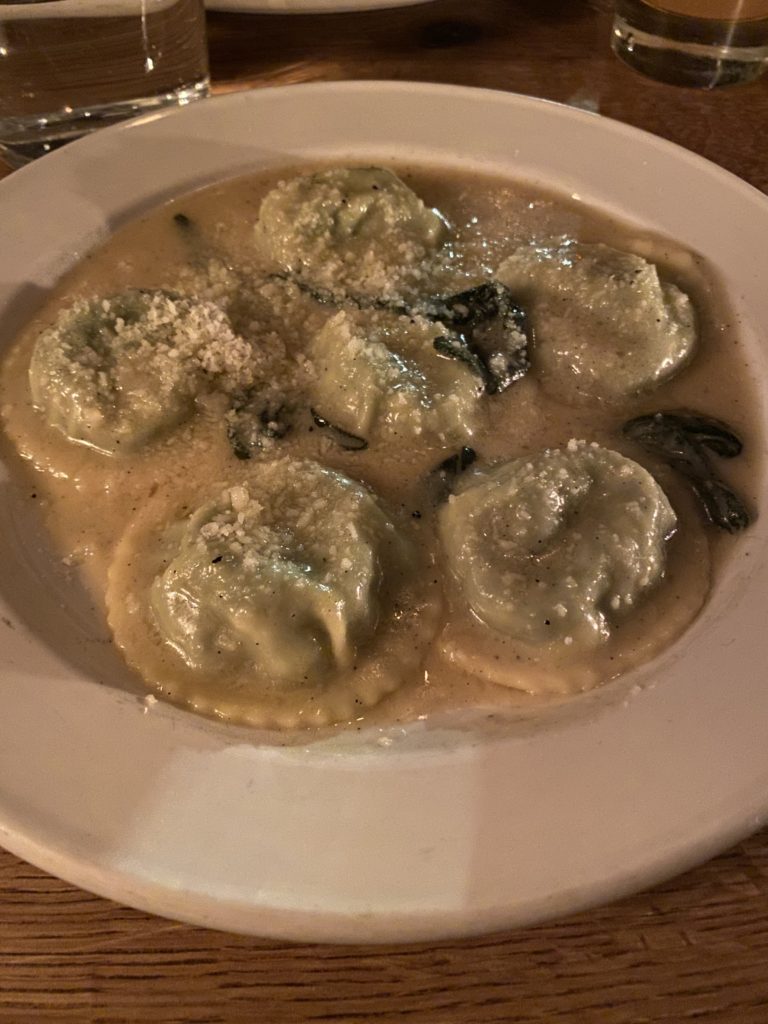 There is a handful of pasta on the menu and they are all so good. The spinach ravioli is a must. Perfectly stuffed soft ravioli served in a brown butter sauce so light and explosive in the mouth. Definitely will become a house favorite.
We had the hanger steak served with sauteed with onions, grilled rib pork chop with applesauce, mushrooms on the side and a spinach dish too. Everything was lick your lips delicious and the portions are just right.
Desserts are sweets or a cheese course. Both of these luscious chocolate desserts defines what makes this place really good. Everything has a lightness to the dish. Perhaps it is the portions, but it is also the spices, the sauces and everything that comes together in each dish has a balance of flavors that are delicious yet not heavy-handed.
Exciting to see a new restaurant with delicious food in the west village. It has become harder and harder to make restaurants work but when they do, they should be applauded. I have a feeling Anton's is going to have a lot of applause.