May 12, 2020
Lessons on Eggplant Parm
Eggplant Parm is definitely not something that I make with any frequency. It is not that I don't love eggplant parm but it is one of the many things that I keep to a minimum in my repertoire.
The one thing I have learned from making chicken or eggplant parm is that it is extremely time-consuming if you want to do it right. I took the time, because I obviously have it, to do a little research before doing my usual freestyling.
I am cooking for 9. It is my night so I made plenty and hope for some leftovers. The pan I used is by Italia and 16 x 14″. To start, the first thing you need to do is make a red sauce.
3 – 28-ounce cans of crushed Italian tomatoes
2 large sweet onions – chopped up
a handful of torn basil leaves
1 tsp. or more dried oregano
1 tsp. crushed red pepper flakes
1 tbsp. tomato paste
1/4 cup of white wine
In a large deep pot fill the bottom with olive oil. Add some kosher salt, red pepper flakes, and oregano then let that heat up for a few seconds or so. Then add the onions and saute until soft. Add the white wine and let it steam off. Now add the tomato paste and mix everything together. Now add the 3 cans of crushed tomatoes. Add salt to taste. Bring to a boil and then down to a simmer. Put on a lid and let this hang out anywhere from an hour to two.
4 lbs. eggplants
8 eggs beaten
2 cups flour or more
2 cups of panko or more
2 cups of grated Parm
kosher salt and dried oregano
Here is where I did some poking around. The key to the eggplant is getting it to sweat. I sliced up all the eggplants about 1/4 – 1/2″ thick. I took a large rimmed baking sheet and cover the bottom with paper towels. Then put one row of sliced eggplant and season with Kosher salt. Then put paper towels on top of the eggplant to absorb the sweat. Repeat this until I finished all the eggplants. Then cover with another rimmed baking sheet on top pushing the eggplants down and put something heavy on top of that. Let this hang out for about 30-45 minutes. It softens the eggplant which is a worthwhile lesson.
Preheat oven to 350.
Mix together the panko and 1/2 cup of grated Parm and set in a bowl (you will need 3 of these size bowls) that will fit you dredging a piece of eggplant in it. You can either put this in the food processor to grind up or what I did was use a heavy pestle and mashed it up so it wasn't too ground. In another bowl mix together the flour with some dried oregano and salt. In the last bowl, beat the eggs.
In a large saute pan that can fit 5-6 pieces of eggplant, cover the bottom with vegetable oil. I use this instead of olive oil because it can get hotter. Take your eggplant, just peel off the paper towel and use it, and dredge in the flour, then dredge in the eggs and then the last dredge is in the panko and move it to the pan. Fry until browned on each side. Continue until you have finished.
Here is a lesson learned. At one point that panko and eggs get just mushy or you find you need a bit more. The oil starts to get black and gross too. This time I took some fresh panko and mixed again with some cheese and crushed with the pestle and beat up some more eggs. I also poured the oil out, took a few paper towels so I did not burn myself, and get rid of all the black stuff. Then I started again. It is time-consuming but well worth it.
Slice up the mozzarella and then cut it up into small squares. It is easier than one big piece to spread it out.
Fresh basil chopped – a few handfuls
Now it is time to assemble. Using a ladle cover the bottom of your pan with sauce. Layer the browned eggplants on top of that. Take some of the cheese and sprinkle across. Take the grated Parm and toss over that. Take some basil and toss over that. Add another row of eggplants. Cover with sauce. Take the rest of the mozz and spread all the way around. Toss the Parm again over this. Basil goes over this and now you are done.
Put in the oven at 350 for about 40 minutes, covered in tin foil. Then crank up the oven to 420 and take the tin foil off. Let it bake for another 20 minutes until browned and the cheese is oozing. You can make it earlier in the day and then reheat at 350 before dinner.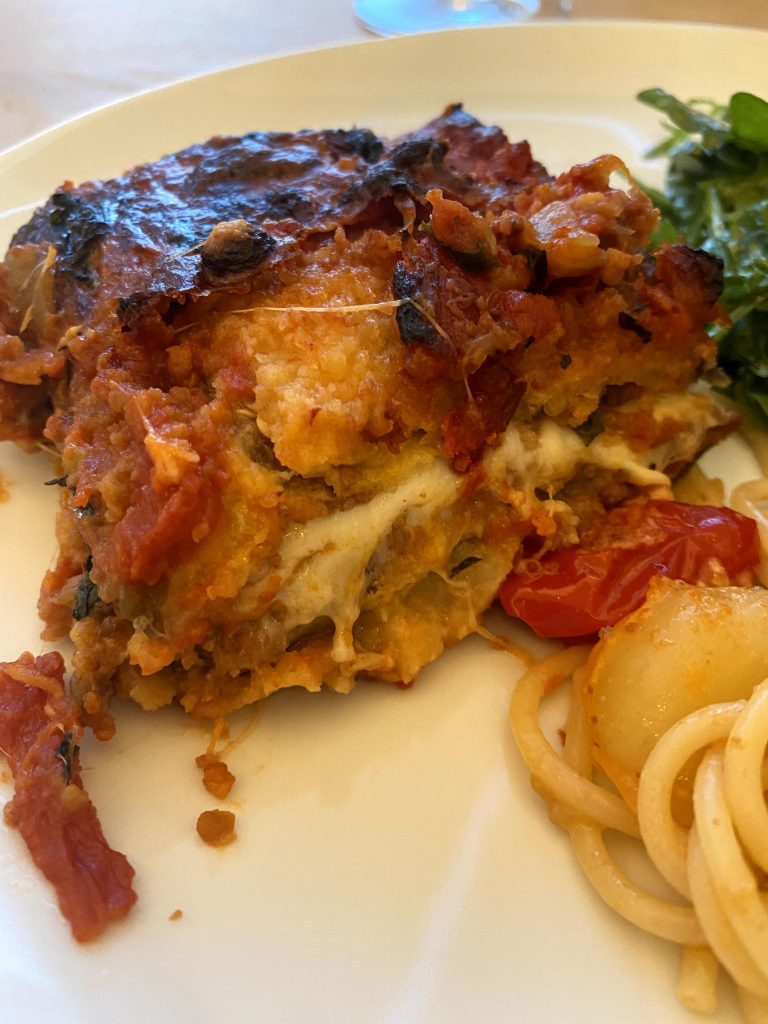 Lots of work but well well worth it. If you are only going to eat eggplant parm on occasion, it best be good.