June 5, 2020
Berry Tart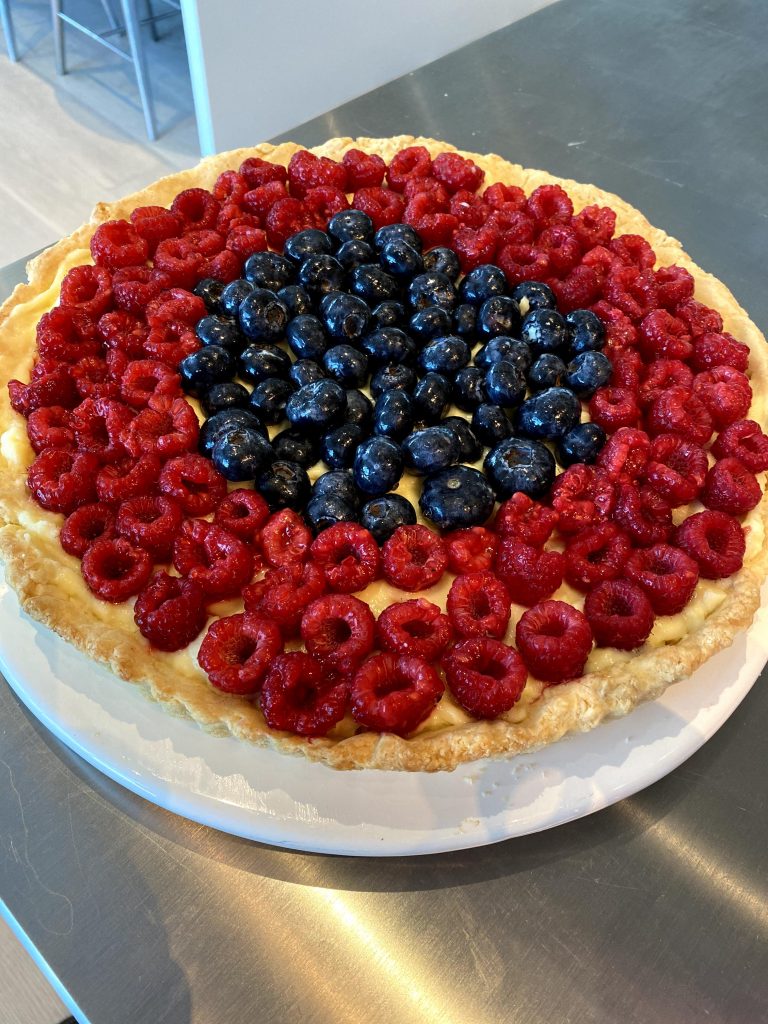 We all need to eat so I am posting something to sweet. We need more sweet these days.
This is possibly one of my favorite desserts. Subtle, not too sweet, flaky crust, sweet berries, and a luscious custard.
The hardest part is rolling out the dough. Lots of doctoring to get to the final baked crust. Unclear where I read about this dough bag but it is game-changing. Rolling out the dough is so much easier. The bag contains the crust so you can continue to roll until you have that circle you are looking for. The biggest gift is that there isn't flour and dough all over the place when you are done.
I used an old blog post of mine for the crust. Really good crust.
2 1/2 cups flour
1/2 teaspoon baking powder
1/2 teaspoon salt
2 sticks cold unsalted butter cut into small cubes
3 tablespoons sugar
1 egg
1 tablespoon distilled white vinegar
2 tablespoons of ice water
Mix together the flour, baking powder, and salt in a Cuisinart. Add the butter and pulse until the dough resembles small crumbs. It is ok to over pulse at this point. Sprinkle the sugar on top of the mixture. Pulse once or twice. Lightly whisk together the egg, white vinegar, and ice water. Pour this over the mixture and pulse until you can see the dough beginning to stick together. Take it out, create two balls, and wrap in plastic wrap for at least four hours to get firm. I used this entire thing for our tart because it was an extra-large tart pan but this is a perfect dough for a pie.
Once the dough is firm, put it in the bag, zip it up, and roll to your desired size. Lay the dough on top of your tart pan. Push and play to create the crust. Prick small holes on the bottom with a fork. Lay parchment paper over the top, fill with beans (I use mine time and time again) and bake at 350 for about 20-25 minutes. Check to see that the crust is starting to set and just begin to brown. Take off the parchment paper with the beans and then bake for another 5 minutes (or golden brown). Take out and let cool.
Pastry Cream
2 cups whole milk (I used 2% and it was fine)
1/2 cup sugar
1/2 vanilla bean split or 2 tsp. vanilla
4 large egg yolks
1/4 cup cornstarch
2 tbsp. cold unsalted butter cut into small pieces
Mix together the egg yolks, cornstarch and 1/4 cup sugar and set aside.
In a saucepan combine the milk, 1/4 cup sugar and vanilla. Bring to simmer. Add in half of the egg mixture and whisk constantly. Once it is completely mixed pour this all back into the bowl with the other half of the egg mixture. Whisk constantly until mixed in. Pour back into the saucepan, put over a medium heat and whisk constantly until the custard begins to form. Whisk another 30 seconds once the custard looks done, take off the heat and add in the butter. Whisk again. The butter stops the custard from cooking.
Put the custard in a bowl and cover with plastic wrap. Make sure the plastic wrap sits firmly on top of the custard so push it down. Chill for a few hours.
Now you have your tart and custard. Berries are you choice. One trick is to toss the berries in apple jelly before arranging them on your tart. It gives them a really nice shine.
Put the custard in the tart, even it out. Make your berry design. Serve.