June 30, 2020
New York, New York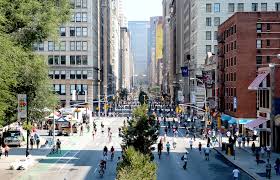 The longer I am out of NYC the more I crave it. The more I read about the protests, the changes coming from restaurants to the opening of the streets, and changing of the liquor licenses so you can walk around, the more I crave it. I have a burning desire to bear witness to what is happening on the ground.
We have been out East since May 1. We are finally at the finish line of renovating our apartment and have nowhere right now to lie our heads so I will be watching from a far and living vicariously through our children and others who are there.
NYC is the epicenter of creativity, entrepreneurial spirits and hard working people who feel as lucky as I do to live there. Finally city streets are being closed to create that European vibe. The streets feel communal. People hanging out, having a drink, spread out and waiting for a table. Just seeing other humans out and about and feeling safe is a huge bonus. We should keep this for ever. The law should remain. It is transforming the city.
Just as we are seeing an onslaught of new faces and voices coming into New York politics (and the country) at light speed, we are getting the same shift in the restaurant hospitality world. It was time. We need that scrappiness back into our lives. Young chefs and restaurant owners with the edge and not as much cash are creating new ways to survive in the industry they know and love.
If you aren't paying attention to what is happening in every city including the country, then you are going to wake up in a year and realize the next generation has taken over. What is happening now isn't war, thank god, but it is a massive turning point. I am applauding the changes taking place. Old isn't working anymore.