July 10, 2020
Chocolate Eclairs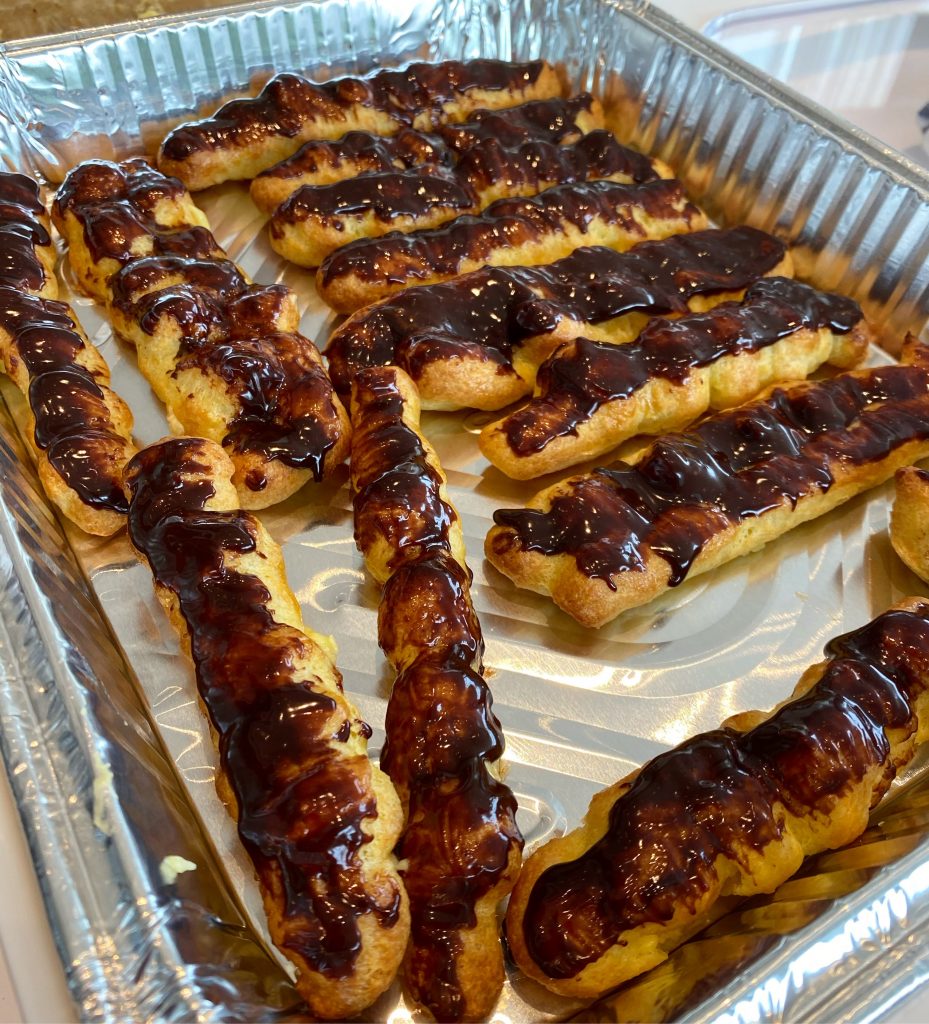 This summer, every week, I am having a one on one with our good friend's kid for an afternoon baking class. She is already quite the baker and cook so I am just throwing in some tips and honing her skills.
Our first class was making eclairs. I have not made them in years but I brushed up on my skills with YouTube. This is quite simple to make, just a lot of steps, and the right piping materials.
Make the custard first because it has to be cold when it is piped into the eclair.
6 large egg yolks – room temperature
2/3 cup sugar
1/4 cup cornstarch
1/4 tsp. kosher salt
2 cups whole milk
1 1/2 tsp. vanilla (or one vanilla bean split and seeds scraped out)
2 tbsp. unsalted butter
Heat up the milk combined with the vanilla in a medium saucepan. In a separate bowl whisk together the egg yolks and sugar until light and fluffy. The mixture should be whipped enough that it becomes a bit lighter in color. Sift in the cornstarch and whisk again. Then slowly add the warm milk into this mixture and continue whisking. Return the entire mixture to the saucepan and continue whisking over medium heat until this thickens. Once it thickens put in the butter and continue to whisk. This will set the custard and stop it from cooking. Put into a bowl, put saran wrap over the top and push it down on top of the custard so it doesn't form a crust. Put in the fridge for at least an hour. I actually put in the freezer so it was ready for us to use sooner than later.
For the puffs. Preheat the oven to 425.
8 tbsp. unsalted butter
2 tsp. sugar
1/2 tsp. kosher salt
1 cup flour
3 large eggs
Put the butter, sugar, salt, and 1 cup of water into a medium saucepan and bring to a simmer stirring with a wooden spoon. As soon as it comes to a boil add the flour and stir constantly until the dough forms a ball and pulls away from the sides of the pan. It happens quite quickly. Remove from the pan from the heat and let this cool for 3-4 minutes, stirring on occasion.
Add the eggs to the dough in the pan, one at a time, stirring vigorously between each egg with a wooden spoon. It will be a little runny but don't worry. It will eventually get back together. Once this is done transfer to a piping bag with a large round or star tip. If you don't have one that big just pipe a few times in the same space to create the eclair the size you want. We made them small and that is one of the lessons we learned. Next time, bigger eclairs. They don't grow much bigger than the size you piped.
Pipe them about 3 inches apart on a parchment-lined baking sheet. Use a bit of the egg whites left over and brush over the top of each eclair to form them into the shape you want. Bake for 15 minutes and then drop the oven to 375 and bake another 20 minutes. Because ours were so small we only baked them another 5 minutes or so at 375 so trust you gut. They should just be browned.
GLAZE:
1/2 cup heavy cream
1 tsp. vanilla
1/2 tsp kosher salt
1 cup bittersweet chocolate chopped up (we used semi-sweet)
Bring the heavy cream and salt to a simmer in a saucepan over medium heat. Add the chocolate and let stand for about a minute to let the chocolate melt. Whisk into a smooth sauce.
To finish the custard you need whipped cream. Use 1 cup heavy cream, a tsp vanilla and 1 tsp. sugar and beat to soft peaks. Cut the custard with this to make the custard soft. You might want to use all of it or you might not. Feel it out.
Take the pastry bag and fit with a fluted tip. Push the tip into the bottom of the eclair in 3 separate places and filled with cream. Dip the tops (or use a pastry brush) and glaze with chocolate. Serve them up. So good!