September 21, 2020
A Day in NY, NY
We moved back into our apartment over the past two weeks. We had gutted the apartment and put it back together. First week was unpacking and placing everything. Second week was hanging art.
The people that hung tend to be artists themselves. I spent some time talking with them about their medium and how they ended up in NYC. I am always amazed how people come from far and wide to be part of this town. Many get here and for the first time in their lives feel that this is where they are meant to be. One person is from Kansas City and the other from Iowa. Neither plan on ever going back to their home towns. Now they are NYers.
Our first weekend we spent taking in the city. There are definitely less people on the street but for the most part the people on the street are locals. It really feels good. We began with a walk on the High Line. I sit on the board so we snuck in a bit early to enjoy the beauty and serenity of the place.
I followed this yellow bird who blended in with the scenery.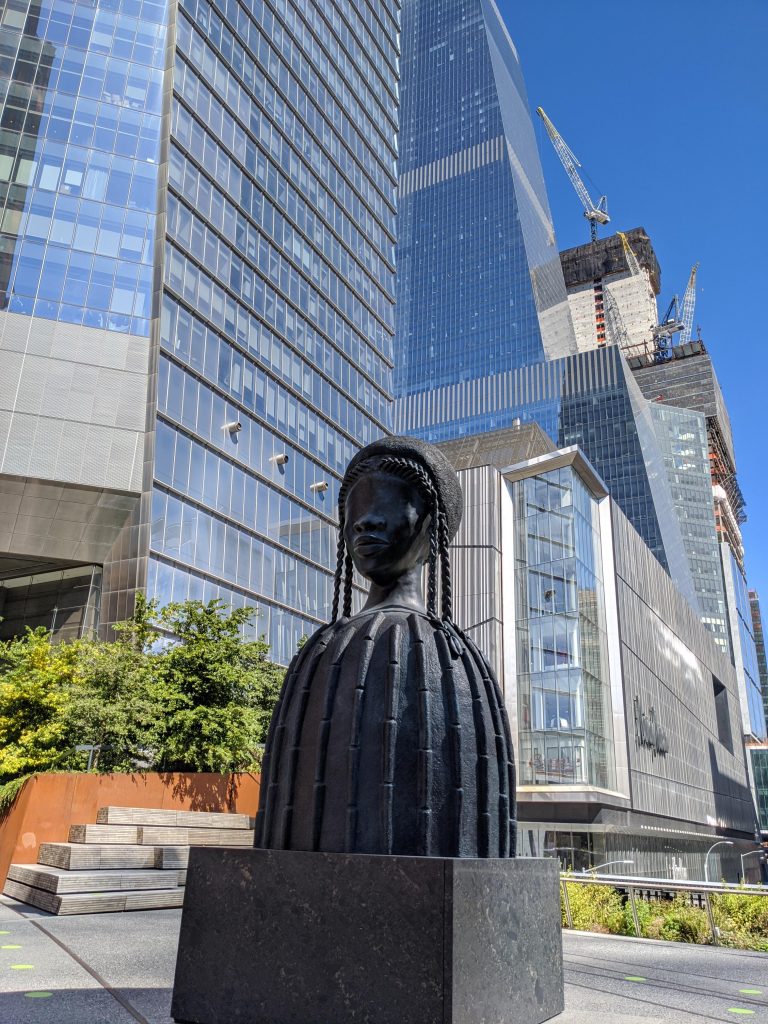 I truly love the High Line.
A walk up the High Line and then down the West Side waterfront back home. The transformation of the West Side below 23rd Street is epic. George Pataki set up the fund to create the Hudson River Park and the rest is history. This plaque sits behind Chelsea Piers acknowledging the 93rd Mayor of NYC, George Briton McCellan, Jr. In first years he was able to acquire 277 acres of park space, complete the construction of the New York Library, build Grand Central, presided over the opening of the subway, licensed the first taxi cab, opened the Queensboro and Manhattan bridge, installed the first water pressure system to fight fires, replaced the city's gas street lamps with electrical lamps, built 19 new firehouses, 110 school buildings, 11 new high schools, constructed 35 miles of new wharfs and 51 new piers. Think about that. 5 years in office. We need a new mayor like that. Just think about the economic impact this mayor made.
Our next stop was where else? Brooklyn. Emily wrote about two places that I couldn't wait to try. Two lunches? Why not. The first piece was about Ha's Đậc Biệt. Sadie and Anthony were serving up delicious food at a community event that had raised money for three Black founded businesses including SavingOurBabies, a parent supported organization rooted in an Afrikan curriculum that teaches children 2-5.
Here is one of the fridges you can see through out Brooklyn where people place excess food. I so love this. We should have one every few blocks that are serviced and cleaned by city. It is good for everyone.
We got our meal and made our way to a local park where we watched kids play basketball and sat at a picnic table. Smoked pork shoulder with a sweet spicy tamarind sauce, corn bread, grilled cabbage mixed with roasted slices of pumpkin, and a papaya salad. Wow. What a joy to dig into this meal.
Next stop was For All Good Things standing on the corner of Franklin and Greene. It looks like they have been cooking before they were even able to unpack. We just had a squash blossom tortilla to share. The Oaxacan cheese oozes out as you take a bite. Dipping it into the green tangy sauce on the side is a must.
I brought home some of their dough. You can buy 1/2- 1 lb of blue, red or yellow masa. I made fresh tortillas for breakfast the next day.
Dinner was back in the city as we returned to our new local sushi spot, Sushi Teru.
There is noticeably less traffic but there are plenty of people on the street enjoying the city that I love. It couldn't have been a more perfect day.