October 7, 2020
Gochujang-Glazed Eggplant With Fried Scallions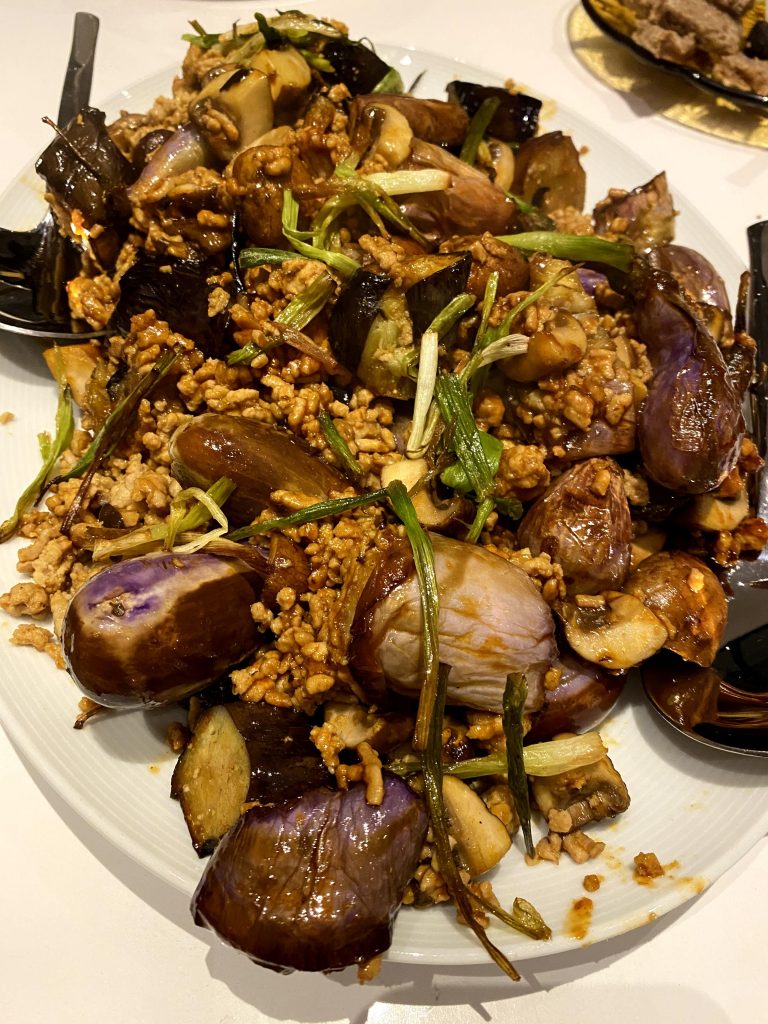 The New York Times Cooking app is one of the best. This recipe popped up a few days ago and then I read it in the Food Section. I have now made it twice. I also changed it up a bit. You can easily add other items to this dish.
The first time I added pan-fried ground pork and okra. The second time I added the pork again with mushrooms and some fairytale eggplants. Winner of a recipe.
1 pound Asian eggplant (about 3 large, halved lengthwise and cut into 4- to 5-inch segments
1 teaspoon kosher salt
2 tablespoons gochujang
1 tablespoon soy sauce
2 packed teaspoons dark brown sugar
1 teaspoon toasted sesame oil
½ cup olive oil
4 scallions, trimmed, cut into 3-inch segments, then very thinly sliced lengthwise, white and green parts separated
Place the eggplant in a strainer. Toss kosher salt all over it. Let this sit for about 30 minutes. Key piece here.
Make the sauce. 2 tbsp. gochujang, 1 tbsp. soy sauce, 2 tsps. dark brown sugar, 1 tsp. toasted sesame oil (I used regular because I didn't have toasted). I doubled the sauce because I added extras.
In a large skill, heat about 3/4 cup olive oil or vegetable oil. Toss in the scallions until they are crispy. Take them out and drain on a paper towel. Pour the now made scallion oil into a glass measuring cup. If you have any leftover you can keep this in the fridge for a week.
After about 30 minutes return to the eggplant and rub the salt off each piece with a paper towel.
In the saute pan coat the bottom with the scallion oil. Put the eggplants into the pan and fry until browned on both sides. Do half of the batch first and then the second half. Don't want to crowd the pan. I used the mushrooms as the third batch and had made the pork in another pan.
Once the eggplants are done, put everything back into the pan with the sauce and stir until coated. Put in a bowl, sprinkle the scallions over the top and serve with rice.
I am making this again.