October 15, 2020
Steeped in Reality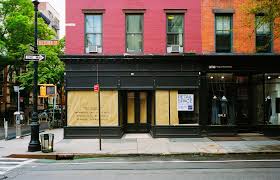 Everyone has their own reality. When it comes to business, my reality is steeped in data and numbers not hope and a prayer. I think in the future not in the past. Some might consider that a good thing. It works for me.
Right now there are a lot of people, particularly in the real estate sector, believing that the past will return. That properties will come back to the pre-pandemic prices once this is over. Nothing is coming back, it is just going somewhere new. It isn't clear what the new will look like but the pricing of commercial real estate won't be what it was before.
It only takes a second to fall down a huge hole but it takes a long time to climb out of it. Once you climb out, the landscape has usually changed.
I spoke to an owner of a property yesterday who espoused the good old days when he made massive amounts of cash running a Chinese restaurant. That was back in the early 90's when you could pay people cash under the table, put out inexpensive food and deliver all over for town for a song. Now people are eating healthy, you have to pay your workers $15 an hour with healthcare and there are services to deliver your food. The margins have significantly changed.
The comps around him are irrelevant, he still believes that his space is worth what it was before pre-Covid even though it has been empty for 18 months. An incredibly successful businessman who talks about the good old days but sadly those are over.
Drugstores, banks and large chains who just want a presence are not going to take over leases on every corner anymore when how we shop and bank has changed. Financially it makes no sense.
We are moving into a new era. The price of commercial real estate got so frothy that it turned NYC into an American shopping mall. We lost the intimacy of the local owners that made NYC so unique. When reality finally hits the commercial real estate owners (and the bankers who own their loans) between the eyes, NYC will return to the entrepreneurs in the stores, restaurants, galleries and everything in between when the rent marries the data.
The longer these landlords (and bankers) hold on to the past, the longer they keep the city from rebuilding.