December 1, 2020
Spicy Mushroom Lasagna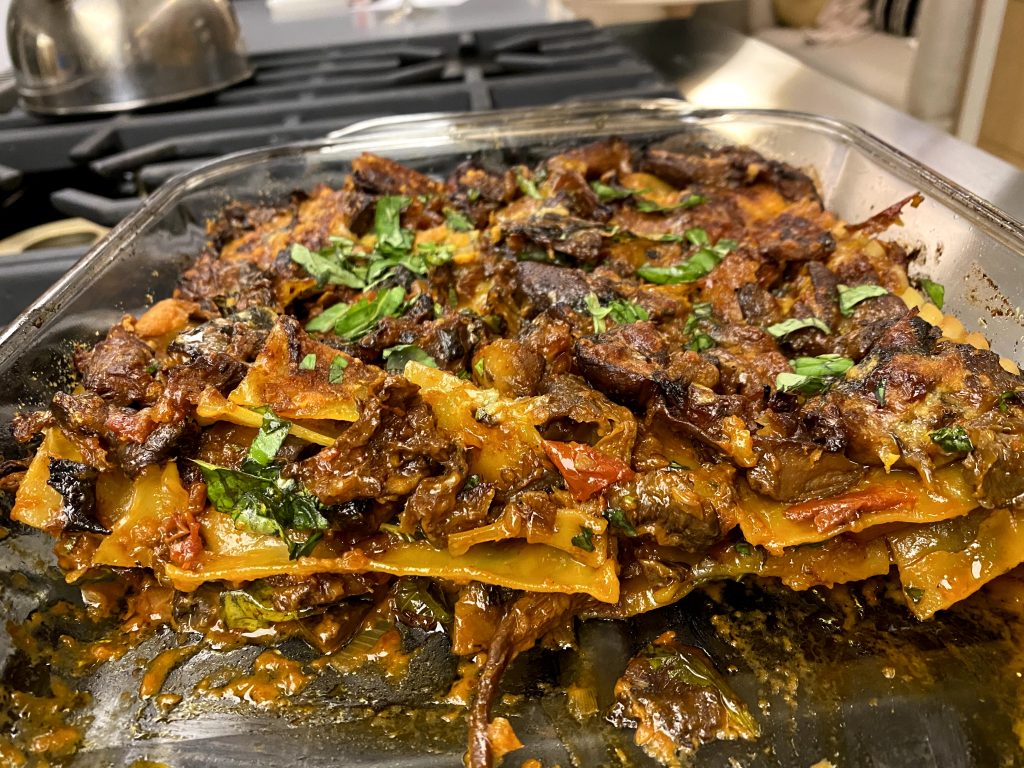 This was such a winner. You can even use the spicy mushroom ragu and pour it over spaghetti instead. This came out of the new Ottolenghi cookbook. I have them all.
I didn't follow the recipe exactly so here is mine below.
2 lbs. cremini mushrooms
1 1/2 lbs oyster mushrooms
2 1/2 ounces dried porcini mushrooms
1 ounce dried wild mushrooms
2 dried red chilis (roughly chopped, seeded for less heat)
2 1/4 cups of hot vegetable stock
1 onion peeled and chopped ( I used 6 big shallots instead)
1 carrot peeled and quartered
3 plum tomatoes quartered (I used a small can of cherry tomatoes sans sauce)
1/3 cup tomato paste
3 1/2 cups water
heavy cream ( you can eliminate this )
3 oz. grated pecorino
3 oz grated parmesan
1/2 cup chopped basil leaves
1 big box dried lasagne sheets
Preheat the oven to 450.
You can pulse the cremini and oyster mushrooms in a food processor to get them finely chopped. I did it by hand because I prefer the mushrooms to be a bit chunky. Put these in a large bowl and mix with olive oil and salt. Spread out on a baking sheet and roast for 30 minutes. The mushrooms should get golden brown. Set aside and take the oven down to 425.
Combine all the dried mushrooms, chiles and hot stock in a large bowl and soak for 30 minutes. Then strain the liquid into another bowl getting at least 1 1/2 cups of stock from the mixture. Chop the mushrooms up. Set aside.
You can put the onions and carrots into a food processor and get them finely chopped or chop by hand like I did for some chunk. Heat on medium-high 1/4 cup of olive oil in a large saute pan. Add the onion mixture and fry for about 8 minutes or until golden. Add the tomatoes, tomato paste, 1 1/2 tsp. salt and pepper and cook for another 7 minutes. Add the dried mushrooms mixture and the roasted mushrooms to this and cook another 9 minutes. Do not stir. You want this to get crispy and browned on the bottom. Add the water and reserved stock and bring to a simmer at a medium heat and cook for about 25 minutes. Stirring on occasion. It should resemble a ragu. At this point you can add in a few tablespoons of cream if you so desire. I did. Simmer for another 2 minutes and take off the heat.
Combine both cheese and the basil in a small bowl.
In a 9X13 baking dish or a 12″ round dish, spread 1/5 of the sauce on the bottom. Top with 1/5 of the cheese mixture. Top with the hard lasagne sheets breaking them up to fix where needed. Repeat this three times and finish with a final layer of sauce and cheese.
Drizzle some olive oil and cream over the top and cover with tin foil. Bake for 15 minutes. Then remove the foil and increase the temp to 450. Bake another 12 minutes, rotating the dish half way through. Take out and let cool for about 5 minutes. Drizzle with a bit more olive oil, and cream if desired and serve.
This is so good. I will make it again and again.