March 16, 2021
Baked Buffalo Chicken Wings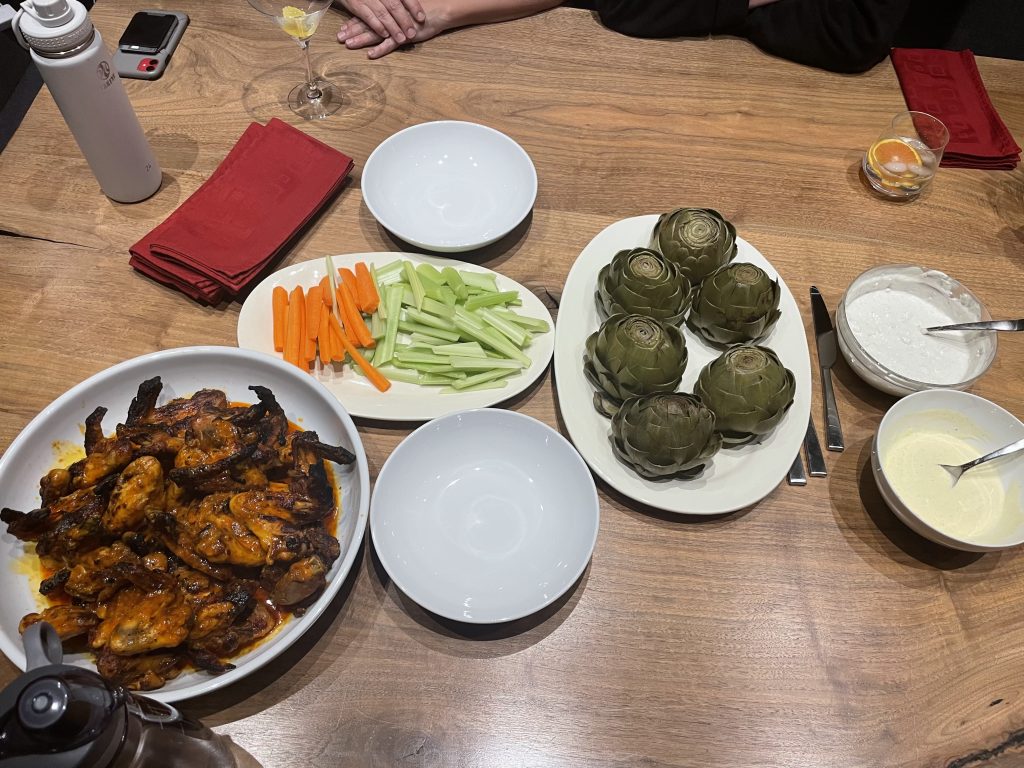 I could devour a bowl of chicken wings and then look around the table to see who has any bones left before reaching over to gnaw on their bones. It isn't so much about the chicken sliding off the bones as much about the physical cave person experience. And buffalo chicken wings are the best for that.
When we were out east, our big take-out treat was from Rowdy Hall. Our order never changes, even when we go there. Buffalo chicken wings and a steamed artichoke with blue cheese dressing, celery, and carrot sticks.
We just spent the last two weeks skiing, sharing the responsibility of making dinner every night. The key to these wings is patience, something that I could be better at. The good news is I began the wings, but someone else finished them off.
3 ounces blue cheese, crumbled (about 3/4 cup)
¼ cup mayonnaise
¼ cup sour cream
1 tablespoon fresh lemon juice or apple cider vinegar
1 to 3 tablespoons milk or buttermilk, or to taste
1 shallot finely chopped or put thru a garlic press
Kosher salt and black pepper
Mix all of the ingredients above to make the blue cheese dressing.
Take 3 lbs of chicken wings and mix with 1 tbsp. Kosher salt and 1 tbsp. Baking powder. Put these evenly on a tin foil-lined baking tray and let them air dry for about an hour. Crank up the broiler.
Put the wings in and let them get crispy. Turning them a few times.
⅓ cup Buffalo-style hot sauce, such as Frank's
3 tablespoons unsalted butter, melted
2 tablespoons fresh lemon juice
Make the hot sauce above while the wings are being broiled. When the wings are looking crispy, take them out and coat them with the hot sauce. Then put the wings back under the broiler and let them get crispy. Once they are looking crispy, take them out again and repeat the process. The double broil is key.
Take them out, serve with blue cheese dressing, celery and carrot sticks, and a little extra hot sauce for those who want to get a bit more of a kick.