June 18, 2021
Baked Rice With White Beans, Leeks and Lemon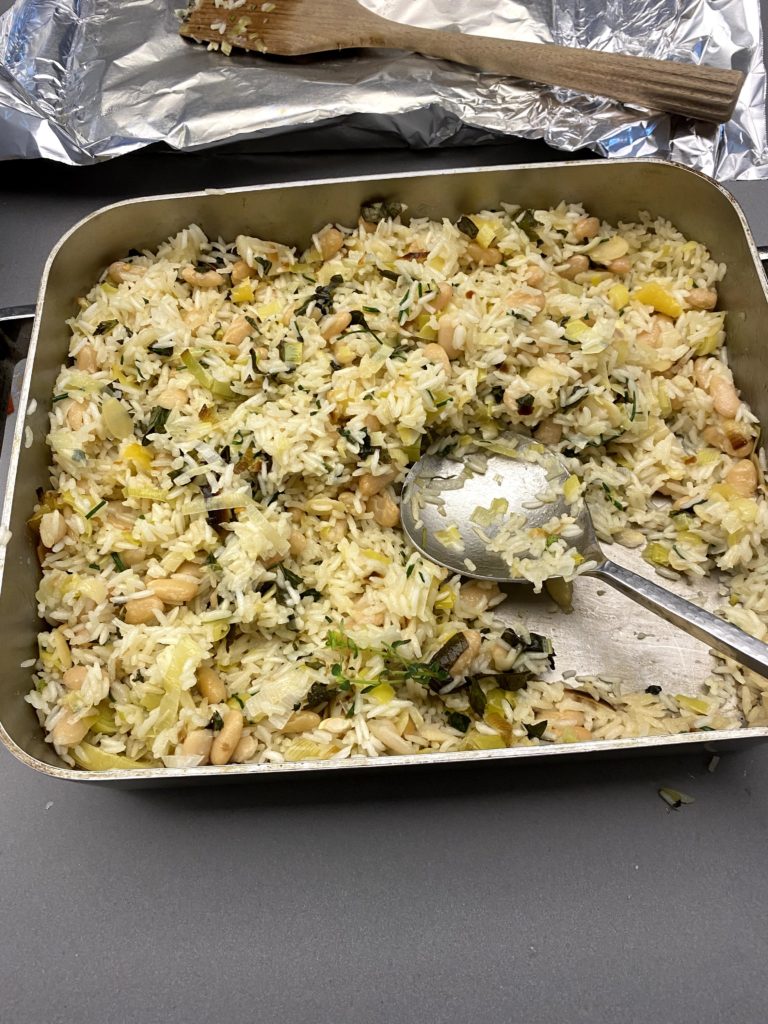 I have said this before; the NYTimes food app is a superior product. This recipe came across my phone, and it sounded good. You could do different beans, toss in different cheeses, use mushrooms and other vegetables, or use certain herbs to skew towards a certain region. This might be a solid recipe to experiment with this summer.
4 leeks (about 2 pounds), trimmed, white and pale green parts sliced 1/4-inch thick
1 lemon
¼ cup sliced raw almonds
½ teaspoon red-pepper flakes
5 tablespoons extra-virgin olive oil
Kosher salt and black pepper
1 ½ cups uncooked basmati rice
1 (15-ounce) can of white beans (such as cannellini or great northern), rinsed
2 ½ cups boiling water
½ cup freshly grated Parmesan, plus more for serving
¼ cup thinly sliced or chopped basil, chives, mint or fennel fronds, plus more for serving
Preheat the oven to 400. Rinse the leeks really well, pat them dry, and slice. Peel 1-inch lemon strips off an entire lemon. Keep the lemon for later.
Toss the leeks, lemon strips, red pepper flakes, almonds, and olive oil in a 9×13 roasting pan. Season with ample salt and pepper. Roast for 20 minutes or until you see the leeks begin to caramelize.
Please take out the lemon strips and finally chop them, then return to the pan. Sprinkle the rice evenly over the rice, pour the beans evenly over the rice, season again with a bit of salt. Finally, pour the boiling water over the rice, seal with tin foil. Bake for another 20-22 minutes.
Take the pan out. Let it stay covered for about 5 minutes. Take off the tin foil, add the parmesan cheese, toss and then toss mixed chopped herbs over the top or mix in.
If I made this again, I'd do 2 cans of the beans and more cheese. It would just be a bit heartier. Again, maybe feta next time?