September 21, 2021
Jen Psaki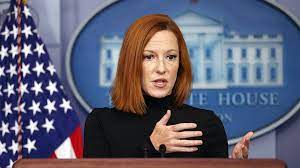 What a breath of fresh air! Is she the woman we all wish we could be?
I could listen to Jen Psaki take questions all day long. She is articulate, sharp, and quick on her feet. Most importantly, she is in charge. I don't have to be in the room to feel the confidence and command she exudes.
People ask me all the time, who is your role model? I have certainly had some over the years but not like people talk about role models these days or mentors. I want to believe that Jen Psaki is a role model for all women. Women that walk into a room and stand as an equal. Who seems to know her shit.
She's such a badass. Composed. Brilliant. She plays it as she sees it. Articulate. Wow. It is women like Psaki that we should be applauding.
If I were up and coming in the start-up world, I'd certainly look to Jen as a bad-ass role model. And that red hair! I love her.
This is the future of women. Watch out, world. We are about to take over.