November 24, 2021
Mixing up a Shrimp Dish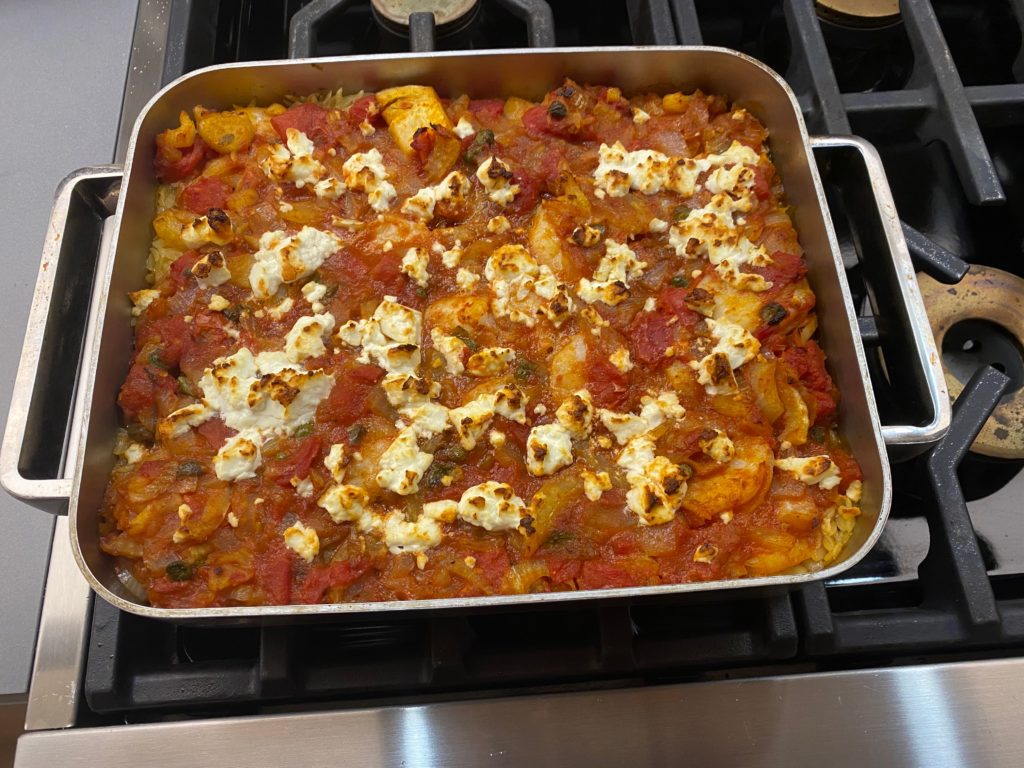 I have been making a shrimp tomato feta dish for years. This past week I changed it up a bit. This is definitely the way I will be making this dish in the future. I turned it into a one-pot meal and added capers. Simple but game-changing.
1 large sweet onion diced
1 large fennel bulb diced
3 tbsp. capers
2 stems of thyme (in a spice sack)
dash of red chili flakes (as many as your heat quotient can take)
1 can crushed tomatoes
1 pound large shelled shrimp
feta cheese ( I prefer french feta that is a bit milder)
2 cups of cooked orzo
Cover the bottom of a deep pot with olive oil, heat, and toss in the red chili flakes. Saute the onions and fennel until beginning to soften and caramelize. Add in the spice sack of thyme (or you can always toss the thyme leaves in and add some kosher salt for taste. Toss in the capers and cook until they begin to get crispy. Add the tomatoes, stir, bring to boil, and then let hang out on simmer for a few minutes to let the flavors combined.
Preheat the oven to 350.
Make the orzo. Takes ten minutes. When done, drain and pour the orzo on the bottom of a roasting pan. Spread evenly across the bottom.
Add the shrimp to the tomato mixture, stir thoroughly. Put this mixture over the top of the orzo and spread evenly across.
Take the feta and crumble over the entire top.
Bake for about 30 minutes or until the feta begins to brown and the tomato sauce is bubbling. I cranked up the broiler for a few minutes to get the top nice and browned.
Delicious! Serve—one dish wonder.