March 25, 2022
Grain Pancakes
I always ordered these pancakes or at least a few for the table. Pancakes are just not part of my repertoire. But the grain pancakes at Axe on Abbott Kinney were epic.
Emily pointed me to Food IQ, a new cookbook by Daniel Holzman and Matt Rodbard because the Axe pancakes recipe was in the book. The cookbook is excellent, well-written, and a fun read.
My niece came over for breakfast this past weekend, and I made the pancakes. She noted that a cast iron pan was the way to go after the first taste test. My niece reminded me how the pancakes were made into big circles cut into pieces like a pie. The big pie-like component was vital too.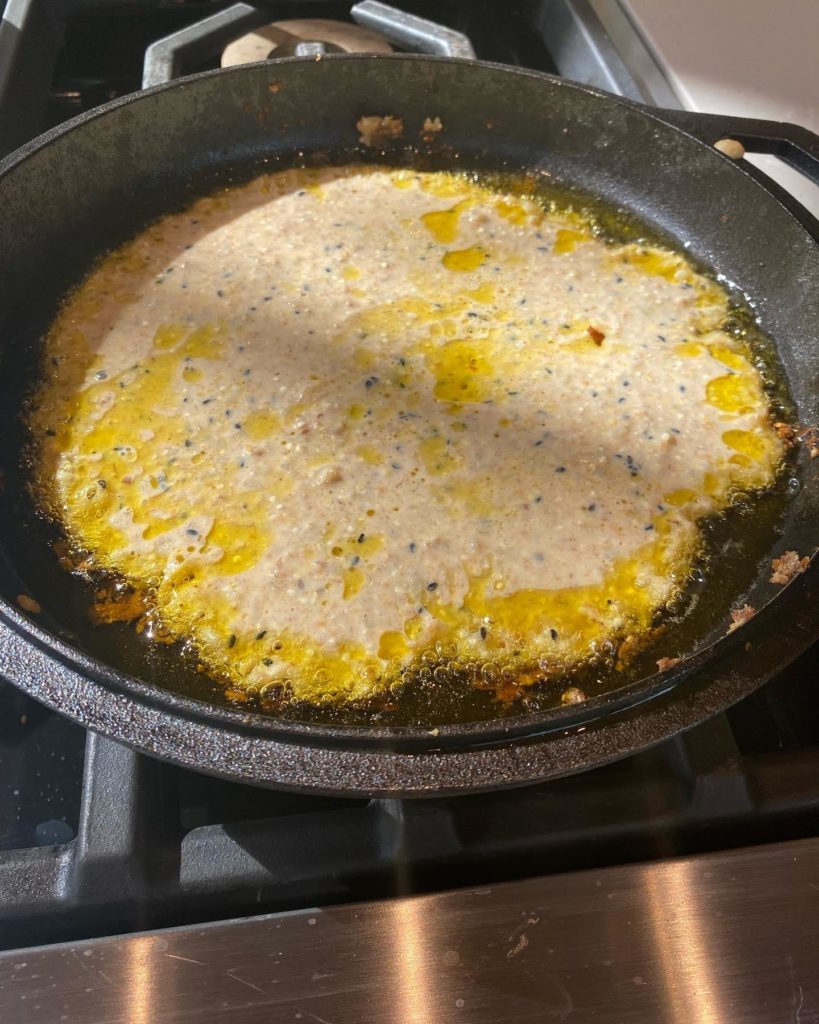 Another key is Emily noted it sounds like a lot of steps. It's pretty straightforward, but there is an overnight in the fridge component. If she didn't mention it, I wouldn't have read it the day before. So a variety of saves on this first time try.
By the last pancake, we got it right.
1 cup 10-grain hot cereal mix (Bob's Red Mill)
1/4 cup millet (I used quinoa)
6 cups water
3/4 cup whole wheat flour
1/2 cup all-purpoose flour
2 tbsp. light brown sugar
1 tsp. baking powder
2 tsp. kosher salt
1 1/2 cups whole milk (I used 2%)
1 egg
1/4 cup vegetable oil (and more – I used olive oil because it was all I had but vegetable oil is the way to go)
1 cup cooked brown rice
1 tbsp. poppy seeds
The night before, combine the cereal mix, millet (or quinoa), and water in a bowl, cover, and refrigerate
Before making the pancakes, stir together the flours, sugar, baking powder, and salt. Add the milk, egg, and 1/4 cup vegetable oil and mix together. Drain the overnight mixture and add it in with the brown rice and poppy seeds.
Heat the oil in a cast-iron pan on medium-high heat. I found the non-stick frying pan did not do the trick. Spread the mixture across the pan and cook until tiny bubbles appear across the surface. You can either get a huge spatula or flip with a plate. I slowly slid the pancake out and then flipped it back to cook the other side.
Repeat until the pancake mixture is done. Cut into pizza slices, serve with maple syrup or whatever you want. These are soo good!