March 9, 2022
Paso Robles
I predict that Paso Robles will become a more prominent destination location, like Napa, in the next decade. Compared to all the small towns like Olivo, it is a large city that you can miss if you close your eyes. The number of grapes growing is insane, considering not one vineyard has busted out. It is also time for a California wine revolution. There was that time in the 80s when oaky Chardonnays were it, but since then, California wines with their heavy alcoholic content haven't grown to the next level. Climate change is also going to force change. Perhaps Paso Robles will be that place.
We stayed at Cass Vineyards. Their hotel, Genossa Inn, is an addition to the vineyard business. Not a bad spot to stay, but service is lacking. It is an afterthought, but the potential is there. In town, a few new hotels are cropping up. Like many rural cities where people are moving to, there is the old part of the city, where all tourists go, and then there are the newer sections built on the outskirts.
Some restaurants are awful, and some are changing with better food and a more relaxed vibe. Locals are fueling this change which is great for Paso Robles.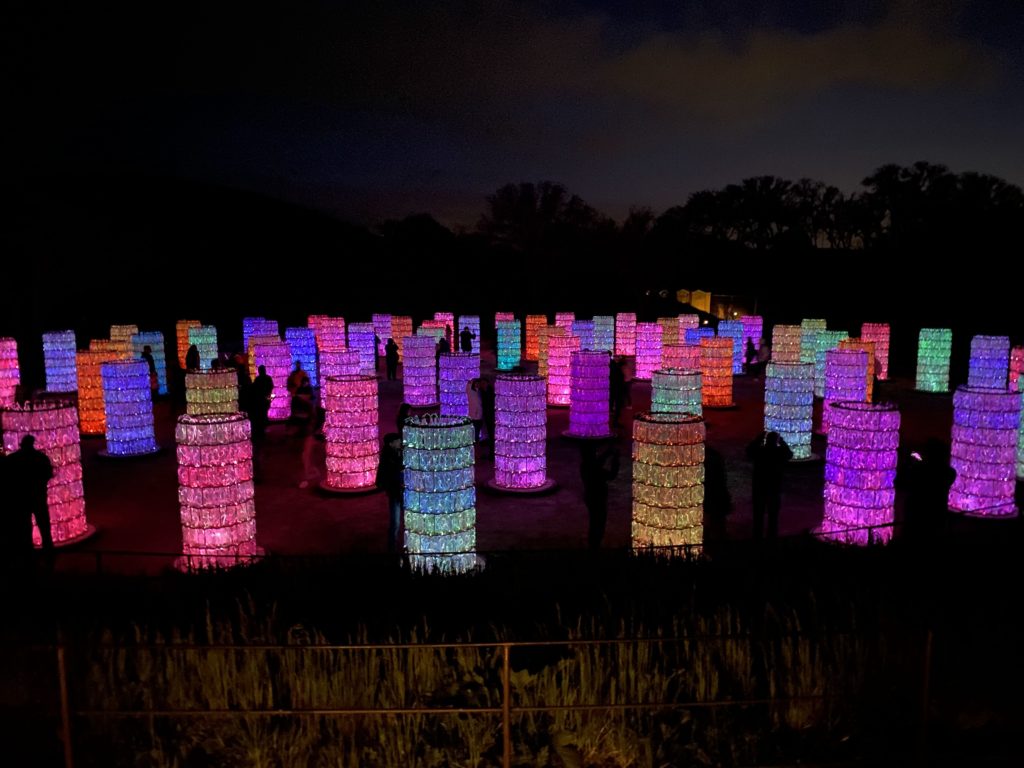 The key reason we came was to see Sensorio. Two locals wanted to create a destination for Paso Robles honoring the land through art. They brought on Bruce Munro to create this installation in 2019. He just added on with a second installation of 17,000 wine bottles glowing with optic fibers. It is permanent. Eventually, there will be eight installations, and of course, accommodations, restaurants, and the works. I hope that whoever is developing this is thoughtful of the experience and the surroundings.
We sat up in seats and chairs. It was like being at an outdoor concert, having a drink while an electric fire kept our feet warm. As the sun slowly set, the lights began to come on, almost like waiting for the fireworks to begin. Then we walked the proper The property is 15 acres.
After two years of feeling locked up and on alert, being able to walk maskless through a beautiful art installation breathing in cool crisp California air felt exhilarating.