April 27, 2022
Plaza Suite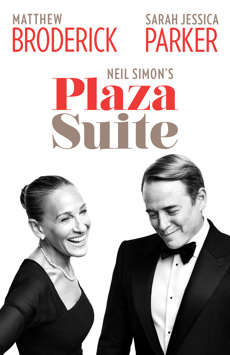 I bought tickets to see Plaza Suite with Jessica Sarah Parker and Matthew Broderick pre-Covid. When they brought the production back in the post-Covid, I purchased tickets, although masks must be worn in the theater.
Neil Simon was a brilliant writer of the time. Although they could have, they didn't try to make this play better suited to 2020. The 3-act play is about relationships and married couples. Both actors are professional theater actors, and the fact that they happened to be married in real life makes their performances shine.
No doubt some humor is no longer there that might have been in 1968, but it does make you realize how far we have actually come, how relationships and married life worked fifty years ago. It seems like a long time ago, but it isn't.
The reviews haven't been stellar, but I am glad I saw the play. Parker and Broderick are the perfect New Yorkers to play these roles. Seeing them on stage together is a NY moment. At the end of the play, everyone stood up to applaud, and the two of them waved to the audience like old friends.
After spending two years locked out of the theaters, it was a welcome embrace back to the stage.