May 26, 2022
Retail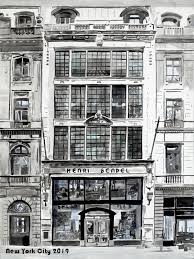 There was a time when there were some incredible stores in New York City.
I still remember coming to NYC with Fred to find an apartment in 1983. We had returned from driving across the country post-college and came back to NYC to begin our careers. We found an apartment in one day that very much defines how we operate and then took a bus up Madison Avenue to 79th and Park because my Mom's best bud lent us her apartment for a few days. I still remember the feeling of awe looking out the bus's windows, seeing the tall buildings and how each neighborhood changed as we went uptown. I was excited to begin my own life.
At that time, there was Barney's on the 17th and 7th. It took me a while to go check it out. I finally went and fell in love. It was so unique, making it very "NY." The sweeping stairs took you to designer clothing on relatively sparse floors, heavily curated. I felt like I was let in on a secret of the NY I wanted to be part of.
Bloomingdales was like a crazy party. Fun, crazy, humming, and great merchandise. Macy's, well, Macy's has always been Macy's. Remember, Macy's started as a bargain basement. They wanted to be a Bloomingdales, but it never worked and, in turn, made Macy's stumble. But that is another story.
Let's not forget when Takishama was in town and for a brief second, and so was Galleries LaFayette. Bendels, oh man, the original Bendels a gem like no other.
In NYC, only 8% of people have returned to work five days a week. Cities will continue to struggle without the workforce showing up daily. We are never returning to that world. We can't expect to return to the past, so we must focus on the future. We need to reinvent NYC and cities across the country.
As we move into closer communities, smaller unique stores, and a shift in street retail, what will be the next Barneys, Bendels, or Bloomingdale's? Cities need the next group of entrepreneurs at the street level to rise. Retail changes a city, and a neighborhood. We need to create the next glory days.