June 27, 2022
I Am Struggling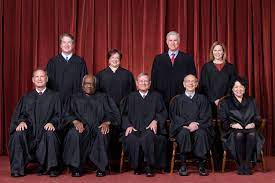 The morning after Roe v. Wade was overturned, I got a text from my daughter. I hate this country. Sadly I was feeling the same way. What happened this past week was a gut punch. I am struggling to comprehend what just happened, even though it has been decades in the making.
Our Supreme Court just turned back time by deciding to limit states and local governments in restricting guns outside the home and the constitutional right to an abortion. I can't help myself but look at the data. When I look at the data, it makes me begin to hate our country too. We need a serious revolution. Whether we like it or not, it begins at the voting booth.
Eighty-three percent of Americans live in urban areas, and roughly 10% live in the largest cities in the country. As someone who lives in cities, seeing people carrying guns with the intent to protect themselves is insane to me. Carrying a gun is not the answer to a safe society. It doesn't take much to look around at the rest of the world. Belgium is a perfect example. Why guns have more rights than women is questionable too.
The Supreme Court is slowly winding down the federal government's role, putting the onus on the back of each state to decide how their citizens want them to live. At one point, will I need a passport to get from NY to NJ? Does anyone in those robes understand that we are one nation? Why would I want to pay taxes to the Federal Government to distribute money to Kentucky? Kentucky is half the size of NYC. If the people of Kentucky want to walk the streets of their neighborhoods, packing guns and ensuring that women do not have rights over their own bodies, then why would I want to pay my taxes to them? Is that where we are going? If so, those states that happen to have an equal voice in the Senate, regardless of the size of the state, are all going to get fucked. Good riddance. I am waiting for these lawsuits.
As for destroying equality for women, it should be noted that 61% of Americans believe in women's right to choose. One in four women in this country has an abortion, and that will not end. The reason is not so cut and dry, which is why this is a healthcare issue before anything else. Pew reports that 93% of abortions happen in the first trimester. 82% of pregnancies by teenagers are unintended. Why would anyone force a teenager to have a child? Is the Federal Government going to help that mother and child get a good job, have childcare, and be able to afford a roof over their heads and healthcare? I am not talking about a handout but helping people break the cycle of poverty by creating opportunities. This is purely about control, nothing else. Both the teenage kid and the child are screwed on day one.
The only good news is abortion clinics have been decreasing as medication now accounts for almost 50% of abortions. Good luck on stopping that one. Pharmaceutical companies have a lot of cash and do not like being told they can not distribute their drugs. We have witnessed that with the reprehensible Sackler family. The problem, of course, is that people who cannot afford the drugs are, as one would expect, those who barely make ends meet
What a country.