June 10, 2022
It is Bathing Suit Season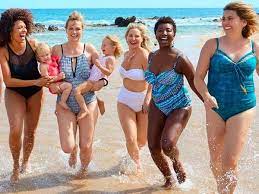 Not shocking I am getting bathing suit Instagram ads like no other.  I admit I kinda dig it, after all, bathing suit season is upon us.
What is incredible about all these companies is how they are building their brands. I was pitched multiple bathing suits companies a few years ago. Actually, I just saw many decks and passed on all of them. I bought swim for a short moment at Macy's, so I understand the business.
We see the same thing in menswear—myriad faces and bodies. The ads are full of normal-looking women, not thin hangers who have been photoshopped but actual humans who supposedly look like us.

On the one hand, I love it. I can make better purchases because I can identify my figure. I would love to see the data on returns. On the other hand, it's kinda nice to see hanger bodies highlighting the clothes and bathing suits. After all, I did grow up with that.

These new models and brands are changing the way we see the world. We aren't going back, and we are only going forward. This is the next generation who is embracing reality. How that plays out is all in the data.
I applaud the feminist footprint.