January 19, 2023
Banana Bread with a Twist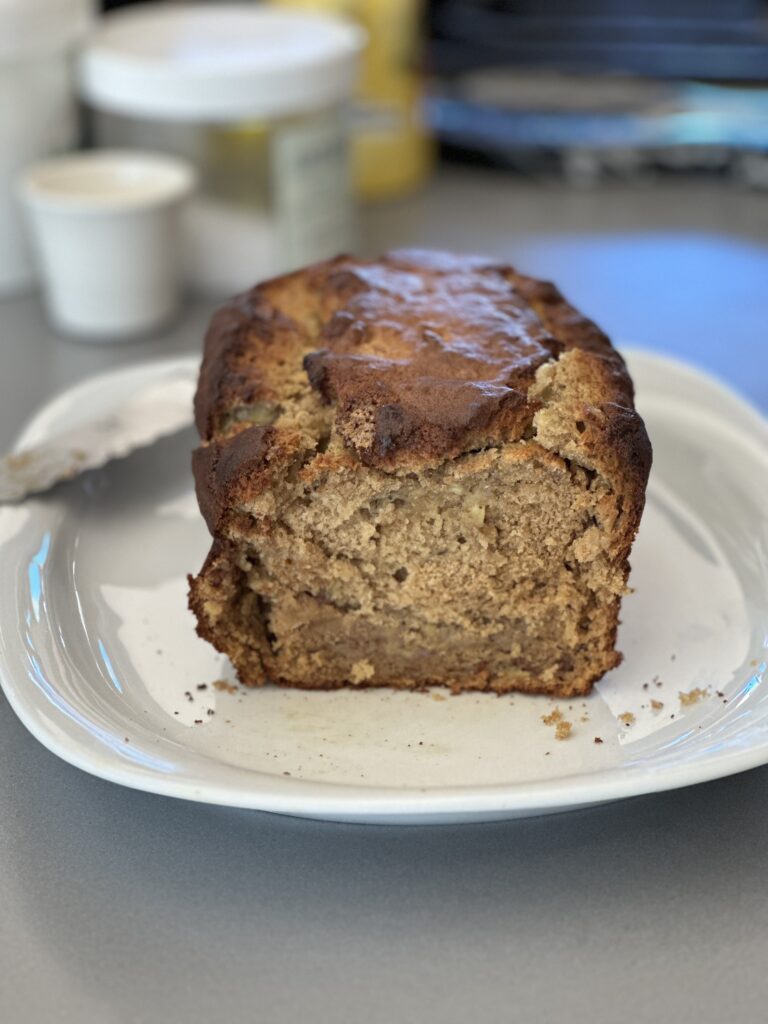 Those four black bananas we calling out to me from the fruit plate. Thankfully the NYT had a new banana bread recipe in the magazine section this week. I opted out of the pecans but followed the recipe line by line.
It is dense, and not sure it needs an entire hour and a half to bake. I might add some buttermilk vs. milk or just possibly 1/4 cup instead of 2 Tbsp. I will try it next time because it tastes good. Sugary pecans would be an excellent addition again next time.
1 cup pecans
One teaspoon of fine sea or table salt
2 cups grams of all-purpose flour
1teaspoon ground cinnamon
½ teaspoon ground nutmeg
½ teaspoon baking soda
½ teaspoon baking powder
½ cup unsalted butter at room temperature
1 cup grams packed brown sugar
Two large eggs
Three tablespoons milk
Two tablespoons white miso
One tablespoon honey
One teaspoon vanilla extract
Four very ripe bananas, mashed
Heat the oven to 350. Oil a 9″ bread tin, and put parchment on the bottom.
Toss pecans with salt and oil on the stove until browned. I'd toss in a little sugar too.
Whisk together flour, cinnamon, nutmeg, baking soda, and baking powder in a bowl.
In a large bowl (I used a Kitchen Aid beat the butter and sugar until creamy for 3-4 minutes. Lightly beat the eggs, honey, miso, milk, and vanilla in a small bowl. Add to the big bowl and beat. Add the flour mixture and beat again. Add in the bananas, and beat again.
Pour this into the tin, and bake for 80 minutes. The bread started to get browned on top, almost too browned, so I finally took it out. It was a little soft in the middle, but it worked. I can't stop eating it.