February 1, 2023
Torrisi and an art opening
This past Thursday evening, I began the night at Mignoni gallery for the opening of the Rob Reynolds opening show. I have not done that in a while, and it felt really good. I saw a bunch of people and met some new ones, and we even shook hands! I have not been as out and about as I like these days. I genuinely do love NYC on so many levels.
On the other hand, Fred started his evening at a Bright Moments minting, another art opening.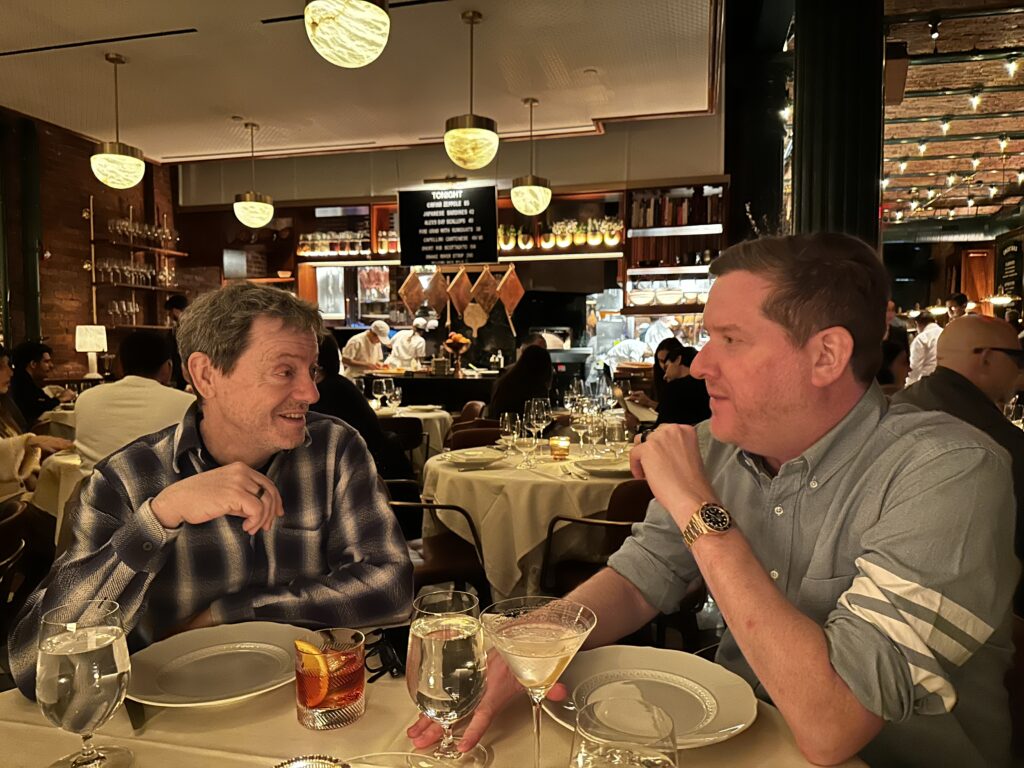 We met at Torissi, with friends I was with, for dinner. It is our second time, and we will be back multiple times. There is much to love about Torissi. The kitchen is putting out delicious food. The setup of the restaurant is super smart. You can stand at one of the bars and have a drink and an appetizer or wait for your table. It is communal and out of the way. It feels like a small party. The service is exceptional. Every person goes out of their way to give top hospitality. But what I like best is the NY vibe, which I have always loved but have been missing. Didn't realize how much. The energy, the people, and the hum that feels alive. We all felt it, and that is why we live here.
Here are a few highlights. The American and Italian ham platter with zeppoles is a must.
The winter vegetable salad is delicious. Last time we had chopped liver, which I want to have again.
The cucumber salad is a fan favorite. Cucumbers New Yorkese.
Tortellini Pomodoro is another win. I also loved these roasted turnips.
The porchetta is off the charts, served with apples right off the rotisserie.
Do not forget the cookies. I am a cookie snob, and these cookies were fantastic. The lemon powdered cookie, the pistachio leaf, and the thin mint, a huge wow!
Such a great addition to the downtown restaurant scene in NY. A place I did not even realize how much I missed this before it even opened.