March 29, 2023
Getting a reservation
Has anyone noticed that getting a dinner reservation these days is difficult unless you plan in advance? Technology has made it so easy, no more phone calls, but ends up no reservations!
When we first moved to the city, I would read Zagat's cover to cover so I knew all the spots. I would also make resys a month out, filling the calendar with friends and meals. A very organized social life. It isn't that I am not organized, but I am a bit loose regarding evening activities these days.
On Instagram, I follow Resyguynyc, who I know knows good food. Most places he goes are booked, but on occasion, there are a few that nobody has booked months in advance. I gratefully scored a resy at Kebaya on a Saturday evening.
We went to Kebaya. This is the 6th or possibly 7th restaurant from this Malaysian owner. Kebaya has been open for about a month, claiming to be the only Peranakan spot in town. Located at 20 E 17th Street, but instead of feeling like we were eating in the Flatiron area, I felt like we had gone to a nice old-school spot in outer Queens. We need more spots like this in Manhattan.
The menu is a mixture of Singaporean food with Malaysian and Indonesian roots. Interesting spices and dishes. Our favorite starters was the prawn vadai with coconut curry, a lentil donut seasoned with curry leaf, coconut, and black pepper.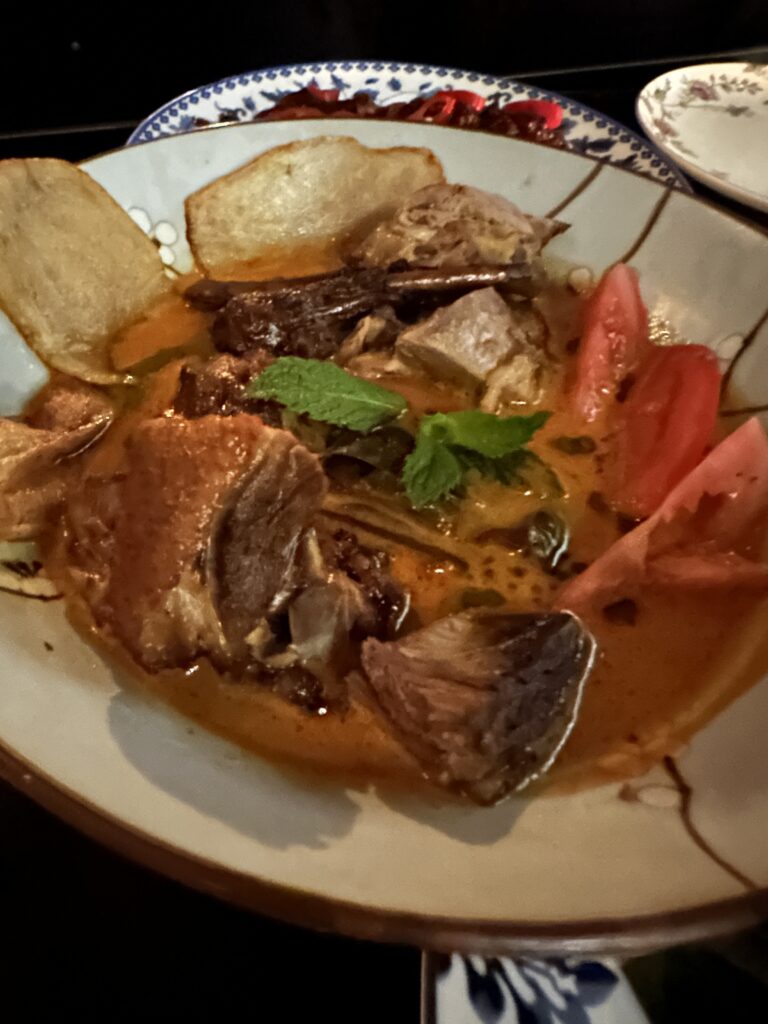 The duck curry is delicious, with large pieces of duck roasted in a rich coconut broth.
The crab roast is delicious but a pain. Dungeness crab legs doused in an egg curry sauce and herbs. The sauce is lick-your-fingers delicious, but getting into the crab is a lot of work and quite a mess. Our friend sent it back to get the chefs to get the crab meat out for us. Not only did they oblige, they asked how the dish could be better. Gotta love that.
My favorite was the brained udon noodles with chicken, crispy pork, and bok choy (egg is optional). I could have eaten the entire dish by myself.
A random spot that I had not heard of but caught on a post. The atmosphere is extremely casual. They need to bring a few more lights to the table to see the food, but otherwise, a win.