December 17, 2020
Ginger Crinkle Cookies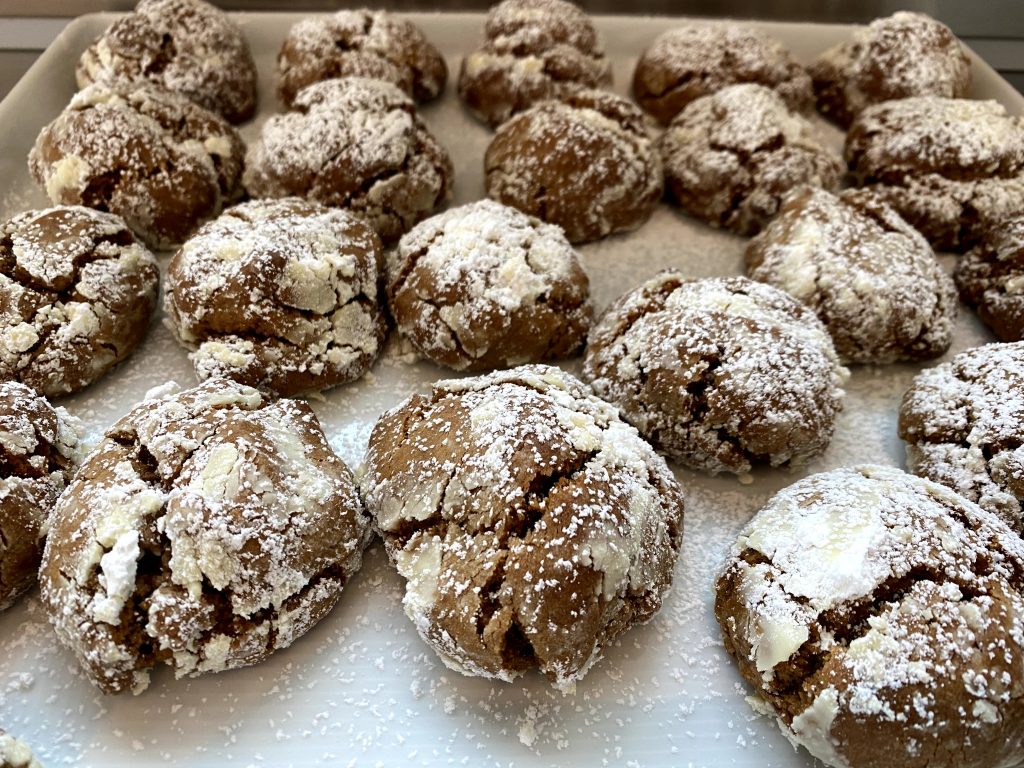 I love a good ginger cookie. I have never been able to master them until now. Every day there is a new cookie recipe in my box. This one came from the top 12 cookies in the Washington Post. This is definitely going to become a staple.
2 2/3 cups (335 grams) all-purpose flour
1 1/2 teaspoons ground ginger
1 1/2 teaspoons ground cinnamon
1 teaspoon baking soda
1/2 teaspoon ground cardamom
1/2 teaspoon kosher salt
3/4 cup (6 ounces/170 grams) unsalted butter, room temperature but still firm to touch
1/3 cup (67 grams) granulated sugar
1/3 cup (75 grams) packed dark brown sugar
1 large egg yolk
5 teaspoons finely grated lemon zest (from 2 large lemons)
1 teaspoon vanilla extract
1/2 cup (120 milliliters/185 grams) unsulfured molasses (do not use blackstrap)
1 cup (125 grams) unsifted confectioners' sugar
I followed the recipe. Not sure why you aren't support to use blackstrap but when I saw a bottle of molasses in the grocery store that said blackstrap on it, I picked up the other one.
In a large bowl whisk together the flour, ginger, cinnamon, baking soda, cardamom and salt until combined.
In a standing mixer, combine the butter and both sugars and beat on medium-high until light and fluffy, about 3 minutes.
Decrease the speed to medium and add the egg yolk, lemon zest and vanilla and mix until well incorporated.
With the mixer running slowly add in the molasses. Make sure to stop a few times and scrape down the sides of the bowl.
Stop the mixer and add the flour in three parts on low. The dough will be soft and pliable.
Cover the bowl tightly and put in the refrigerator for at least an hour and up to a day. I did a few hours.
Preheat oven to 375.
Put the confectioners sugar in a bowl.
On a parchment lined cookie sheet, use a small ice cream scoop to make small 2 tbsp. sized cookies. Roll them quickly in your hand and drop into the confectioners sugar and roll around into thoroughly covered.
Bake for 12 minutes. Take out of the oven and let them set for about 5 minutes. They are soft outside and crunchy outside. Just right.