March 26, 2021
A quick trip to Los Angeles
I am out in LA for a quick jaunt. I just needed some warmth and. a new perspective before spring hits the streets. I came solo, which is not only a rare occurrence but a never occurrence. Me time is good.
The highlights have really been seeing family and friends. Doing nothing that is out of the ordinary but sticking to the westside. Traffic is starting to return, and I am just not interested in any stress. I headed to Gjusta for a bagel and a baguette. They screwed up the order, and they don't make baguettes until 930am. It took 15 minutes to get a loaf, and some butter at 8 am in the morning. So, nothing has changed there. Although it was fun to see at least four fathers with their kids come in for the early morning treats.
Favorite is always the Mar Vista Farmers Market. I go with my brother on Sundays. Trying to hold me back since it is just me, but it is tough. I plan to haul a shopping bag back with me of goodies! The strawberries are peak right now.
So are the snap peas.
Check out these kiwis! They are the size of an Idaho potato!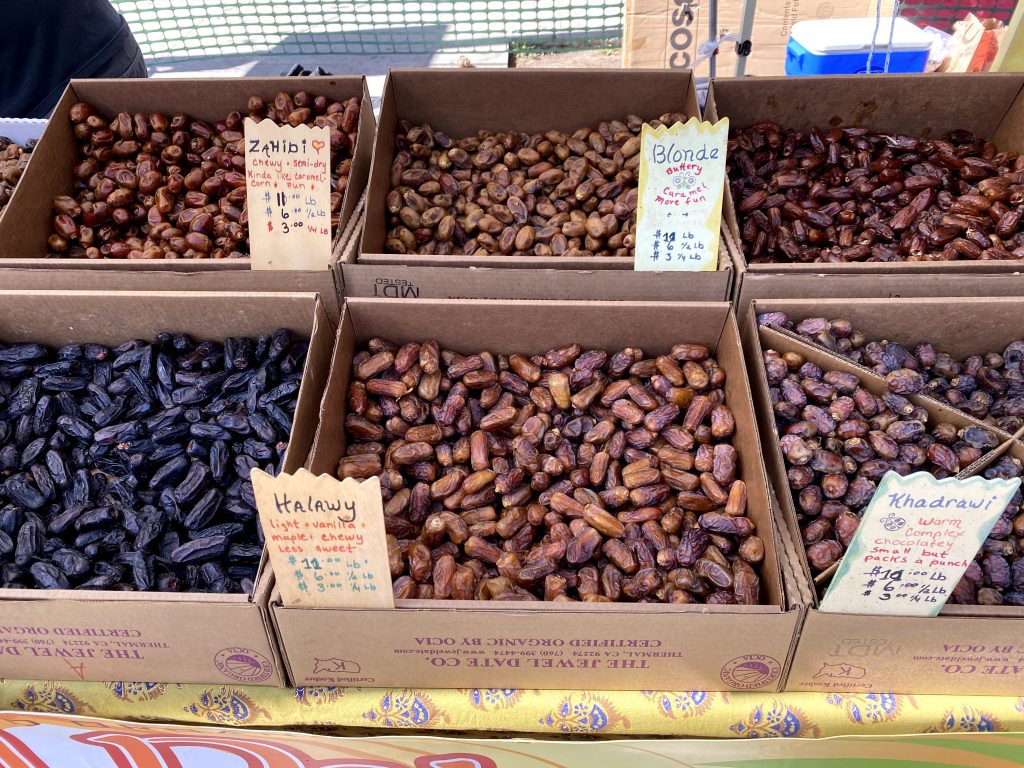 The dates….the picture says it all.
I had to check out the bagels at Pops. They have only 3 kinds, Regular, everything, and cinnamon raisin. Soft and yeasty with a chewy coating. They had made 800 bagels on Sunday and were sold out of cinnamon raisin. You could no longer buy a bagful—only bagel sandwiches.
The traditional fixings are available, including tuna fish and egg salad. The buttermilk cream cheese was sold out, but they had mixed it with jalapenos. I opted for that. The bagel is served open-faced, and I really like that.
It is great to see a good bagel in LA! They aren't NY bagels, but that's ok. We are in LA, and they should create their own version….and they have done a nice job!