August 2, 2023
Feminism is on the Rise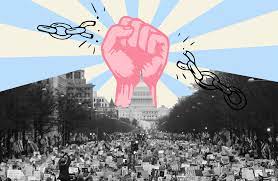 In 2016, at the last Women's Entrepreneur Conference we put on, I spoke about the history of women in our country. That our businesses are our voices. I started to see the rise of women being able to work and balance their family lives simultaneously during the 90s when companies began to create different jobs as we began the technology revolution. In the post-Covid world, women became more empowered to take the jobs that they deserve.
Many people find the rise of women's empowerment scary like the right-wing party, but equality is expected for the next generation. I do not quite understand Moms for Liberty, which seems to be getting more traction than one would hope, but perhaps it is purely media-related. The strength of their movement might not be as strong as it appears in the media. It just grabs eyeballs. John Birch's society has never succeeded.
Women have taken the back seat to their male counterparts for a long time, which is beginning to change across every industry. There are more women in higher ranks and on boards than there were in the mid-90s. Perhaps it has just been a quiet surge that is starting to peak? Perhaps we are starting to move down a new road in this post-Covid world and are beginning to see change.
I went back and read my speech. I will share it with all of you.
The path for women has been uphill from the beginning of history. The definition of gender roles begin with the simple fact that women can have children and men can not. Certainly our physical strengths are different but nothing else should make a difference yet it has for hundreds of years.
Margaret Mead said "Never doubt that a small group of thoughtful, committed citizens can change the world. Indeed, it's the only thing that ever has." In 1848 those citizens were four women having tea to discuss that 70 years after the American revolution it was time for women to play a more active role in all parts of society. They drafted a Declaration of Sentiments that set an agenda for the equal treatment of women and men under the law and voting rights for women. And so the Women's Rights Movement began. That was almost 170 years ago. It took another 42 years for the 19th Amendment to be passed in 1920, granting women voting rights. A lot has happened since then.
After women secured the right to vote, Margaret Sanger founded the American Birth Control League in 1921, which evolved into Planned Parenthood in 1942. A group of black women also created a coalition against job discrimination, sexism, and racism in 1935. Through the next few decades, the fight for birth control continued until 1960, when the FDA approved the birth control pill. Now we are making progress.
In 1963 John F Kennedy established a commission on the status of women and selected Eleanor Roosevelt to chair it. The commission found substantial discrimination against women in the workplace and recommended fair hiring practices, paid maternity leave, and affordable child care. Progress, progress.
That same year Betty Friedan came out with the Feminine Mystique. It resonated with women across the country who were feeling dissatisfied in their lives. I remember my Mom reading that book and starting her own business soon afterward. That book galvanized women, and in 1966 the National Organization for Women was formed. It was the next evolution of the women's liberation movement fighting for equal rights, social justice, and opportunities in education and employment.
Soon laws were passed regarding common property and no-fault divorce. Ms. Magazine was born in 1971, and a new voice of feminism entered the scene. Title IX was passed, and the Roe V Wade decision was handed down. Times were changing for women.
Title IX has been transformative. It allowed women equal access to education, which began changing gender stereotypes in the classroom. The law also gave women a right to fight sexual harassment and get scholarships to schools, and all of this gave women a new sense of self-confidence. It was a landmark shift.
But I can't help but wonder if all this supposed empowerment let the women of the next generation off the hook. Did we stop waving the flag and moving forward for true equality?
I didn't realize I would be discriminated against as a woman until I hit a snag a few years into my first job. I was charging along as quickly as possible, and someone held out their palm and said, "Stop; women do not move as quickly as men." Really? Well, nobody was going to stop me. I quickly left that job and began to forge my path. That path included staying home at points while having three kids along the way.
I was in the middle of the technology revolution throughout my many careers. I was having breakfast with Nancy Hechinger, the co-founder of WeFestival and a professor at NYU's ITP school. Nancy told me, "There aren't enough women in technology" Nancy is a role model for working women. She has had several careers and children along the way. She was concerned that not enough women were continuing the fight. I told her that many women are starting businesses, but they network differently, so you don't always see them. Our answer was to have an event that celebrates those women. And so WeFestival was born. That was almost seven years ago. This event today is the 6th WeFestival. We incubated this festival for five years at NYU, and now it is moving into its next life.
Six years ago, there wasn't much conversation about women entrepreneurs. Since then, women-owned businesses have grown by almost 30%. Women want more control of their careers while attempting to have a balanced life and a flexible work schedule. Being an entrepreneur is not for the fearful. It is for strong, powerful women like yourselves who have taken that leap into the unknown to own your destiny.
We know it is more difficult for women to raise money for their businesses. I can tell you firsthand that women take longer to build the foundations of their companies before stepping on the gas. When I look around at the landscape of gender equality, it is refreshing to see many of the large companies that were started in the past twenty years making policy changes that push for equality, such as maternity and paternity leave. We live in a time when families must have two incomes to survive, and we are seeing companies make changes. Letting men take time off to have their children change the game. It forces gender equality at home, and that bleeds into everything else.
The ROI on companies that have women at the helm is higher. Companies with women on the C team make for a healthier and more successful business. All of these things start to add up, and that is why I believe we are on the edge of a significant change. It is a new era of women's lib. You can feel it in the air.
Women and equality are a conversation in every business today. Women superstars who are building companies are being written about daily. More data is being analyzed around gender-balanced companies, and we have a pretty good shot that the next President of the United States will be a woman.
How do we continue to move forward? I believe women need to unite as a community while building our companies. I considered calling it a day after five years of this event. Still, it was a night of multiple margaritas right before WeFestival 5 with my husband and sister that changed the trajectory of this business. My husband told me, "You can't give this up. The impact this event has made on women entrepreneurs is significant. Take it to the next level". My sister chimed in and said she'd run it; that is how we all got here today.

It is powerful to have a place where women can gather, hear and see other women who have forged their paths. It is essential to be in a room with 400 other women who can talk about their business, how challenging the climb is, and when they have time to shop. I want this community to continue to grow. And so, like all of you, we are beginning an entrepreneurial path alongside you. Our Slack channel will evolve; we will bring this event to LA in November and add Berlin in 2017. We want to be the place where women can connect and be heard. We want to be where you have the loudest voice in the room. We want to be where you can meet friends, business partners, think differently, and be validated that you are on the right path.
I think about those four women sitting around the table wanting equal rights for themselves and other women. The reality is that change comes from the outside. We have to continue pushing this movement ahead. So as you grow your business with the hope of going public, having a big exit, starting several companies, or just building something that makes a difference, all of you need to stay in the public eye while doing that. We are the role models for the next generation of women to continue the equal rights movement for all. We need to do that for the next young woman, age 8 or 12, so she can point to any of us and say, "I want to be that person. I can do it because she did it". There are not enough of us at that level. I believe that we are getting there after seeing so many women's businesses get funded and grow over the past decade. This is an ongoing women's movement that started back in 1848. Let's continue building this community so all glass ceilings are broken. All of you are in this room, women entrepreneurs taking control of their lives by making companies help establish equal opportunities for all women.
Our businesses are our voice…let's use them.
If you got this far, you would note that I never built the festival past this stage. For many reasons, companies did not want to sponsor an intimate event of 300 women who paid the price an entrepreneur could afford, they wanted more bang for the buck, and I did not want to do that. And so, I am now building Gotham.