October 2, 2020
Mask Etiquette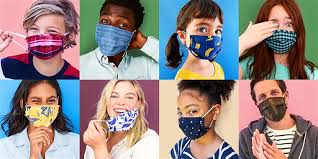 Have mask will roam. You must carry a mask with you at all times. That is the simple rule but what is the etiquette?
I walked down to the beach this past weekend, and everyone who was coming the opposite direction politely put on their masks and stepped off the boardwalk for me to walk by. Extremely nice etiquette.
When a server or waiter comes over at a restaurant and they obviously have a mask on, but it is good etiquette to pick up your mask and put it on too.
Anything else is kind of unsuitable.
How about the glamour of the mask? I know my Old Bay mask has been a bit hit this year. I am moving into a few others that coordinate with the fall wardrobe. Important to pull the whole thing together. I am enjoying the random masks I see.
I bought some mask editions from artists including a pack of bandanas. I don't plan on wearing them but framing them. Certainly the addition of masks to our life is a historical moment to be remembered or will this just become part of our uniform?
Also, etiquette includes having the mask cover your mouth and your nose.
Perhaps the President should have been following mask etiquette.
Strange times.