August 11, 2021
Eric Freeman, RIP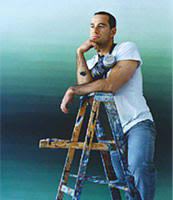 I met Eric Freeman around 2000 at his studio on White Street. The night before, there was a minor fire there that began started when his paints combusted. Luckily all his work survived. He was about to have his first major solo art show. I was drawn in by him and his work.
He was charming, smart, and had big beautiful eyes and a warm smile. I always loved seeing him and catching up. Over the years, we bought a few of his pieces. One of his first pieces that we bought in 2005 from his first show, he told me he couldn't look at again. Then another one as his work evolved sits in our living room in NYC. I always love looking at those orange colors that blend into each other.
He set his roots down in the east end of Long Island, and each summer, I'd try to stop by. He knew all of our kids too and always asked about them. He was a bit of a renaissance man. He didn't use social media; he didn't even have a website.
He had so much more to paint. My heart just breaks.