September 8, 2021
Eating out…or in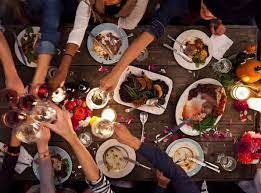 In the 50s and 60s, restaurants weren't as abundant as they are today.  The socialization didn't stop but took place in homes.  There were cocktail parties and dinner parties.  I love a good cocktail or dinner party. I was quite looking forward to entertaining heavily this Autumn, but it appears that is not so easy right now.
Growing up, going out was only something we did on Sunday nights for Chinese food, of course. My parents had dinner parties, they went to dinner parties, and going out to dinner didn't really begin to amplify until later in the '70s.
I remember my father taking my sister and me out to dinner at an Italian restaurant in downtown DC, 1977. My parents were getting divorced, so the occasional meal with Dad was what we did. The owner knew my Dad and that fed my brain too many mixed messages. Yet, it was the first time I had spaghetti with peas, pancetta, cheese, and lots of cream. I was in ecstasy. We never had this kind of food in our house, too fattening! This opened my eyes to a whole new world.
In the 1950s it was the beginning of fast food spots. The 1960s brought the growth of casual family dining. Two family working homes created a need for more restaurants, so people didn't have to cook. It made life easier. That was probably the beginnings of pre-made food that blossomed into grocery.
Pre pandemic, it was becoming more and more difficult to make any money in the restaurant business. Unfortunately, I can't say post-pandemic because we are still in it, but since the pandemic, we have seen countless restaurants close while the survivors have morphed because they had to. I applaud them all. Yet, on the other hand, the creativity that has happened in that industry is epic. Where does it go from here?
In urban cities where many people eat out nightly, I wonder about the future. I actually knew people when we first came to NYC who used their oven for storage. How will restaurant dining change? Smaller spots? Fancier intimate spots for special occasions? More spots where you can take it home but not sit there?
Those changes might shift our social life to more cocktail parties and dinner parties as it was 60 years ago but in urban spaces, going out is as essential as getting a cup of coffee in the morning. The next generation of chefs and restaurants is beginning to sprout. I am excited to watch and participate.
I swear that I can still remember the first bite of that pasta.