September 2, 2022
Back at Anton's in NYC
We returned to NYC yesterday morning. The weather was the perfect end of the summer day. Walking the streets was invigorating. I so love this town. After running a few errands, I came home and read all the fall magazines, a favorite activity. NY Magazine's fall preview is especially good this year. The new designers, restaurants, theater productions, gallery and museum shoes, etc. Media makes an impact, and these articles screamed, "NY is back."
We went to our favorite haunt, Anton's, for dinner. It is the perfect European neighborhood place, and the food is excellent. In full transparency, we are investors in this restaurant but purely through one of the menschiest restaurant stories.
The restaurant used to be Frankie's 457, owned by Frank and Frank, who owns a small compound in Carrol Gardens where Frankie's 457, Frankie's Wine Bar, and F&F Pizza live. Frank and Frank are two born and bred NYers who are the salt of the earth. They didn't want to run a restaurant in the west village anymore but had a sweet deal on the rent. So they partnered with Nick Anderer and Natalie Johnson (now married) to take over the place. For all the investors, none of our equity changed. Frank and Frank took the total hit, giving it to Nick and Natalie, and keeping a tiny piece for themselves. Seriously generous and rarely heard of.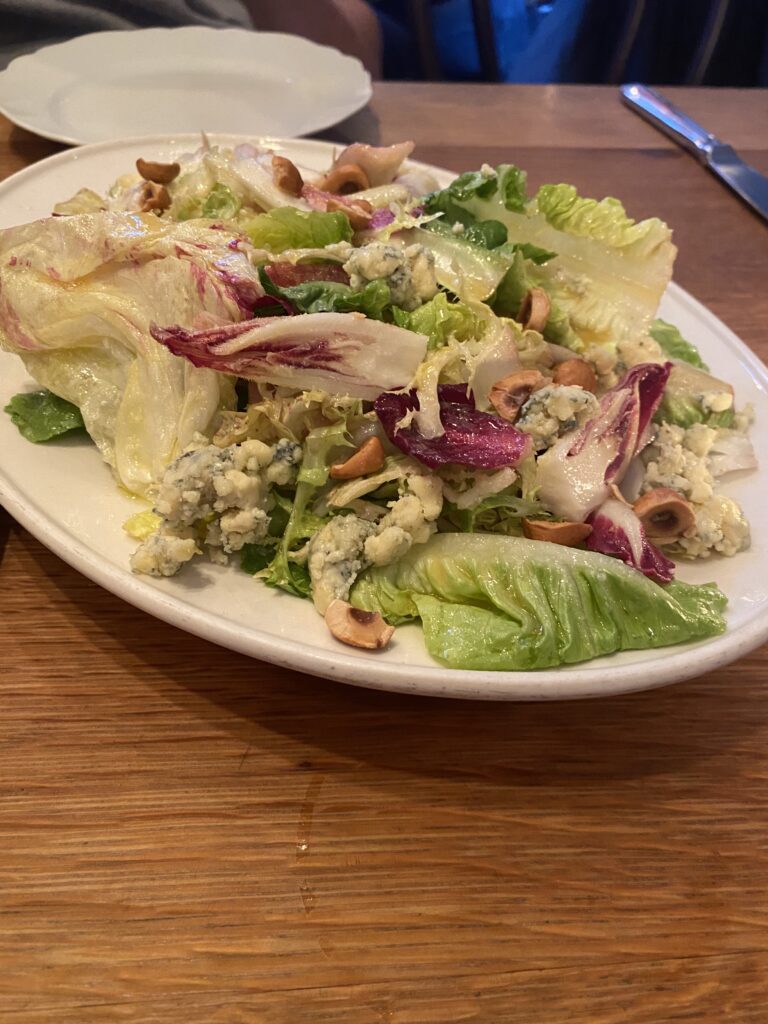 Our meal last night was epic. We devoured everything from the chicory, stilton, and hazelnut salad.
To the special of asparagus wrapped in speck.
Nick brought us out four slices of meat he had brought back from Italy. Not sure what it is called except for mind-numbing melt in your mouth; omg, divine.
Cheese stuffed ravioli with fava beans over the top.
Black sea bass in black butter with pea greens and capers.
One of my favorite indulgences on the menu is the camembert alongside a baguette and a cherry gastrique.
The special last night was an almond frangipane tart.
We walked home happy, full, and excited to be home.