October 20, 2022
Fund Raising Events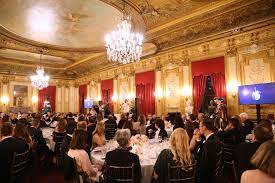 Name someone who loves fundraising events outside of the development people. The amount of barn-raising events in NYC each month is countless. When organizations start planning for the year ahead, they go to lists to find out who else is having an event that night.
The events are all the same. Cocktail hour, (possible) table to bid on items, sit down for dinner, speeches, (sometimes)an auction to raise more money, closing remarks, wrap it up. The positives are seeing people you haven't seen in a while and financially supporting an organization you care about. The negatives are you can't hear anything around the table, the food is generally awful, the rooms are sterile, and they are not that fun.
I don't mind getting dressed up to support an organization, but I want the event to be a big 2 hour cocktail hour, a few acknowledgments, and that's it. The fear is that the corporate sponsors won't give the capital without their table to sit down at.
The opportunity to be creative around these events is for the taking. It would be fantastic if someone could develop a new concept that every organization starts to follow where the same amount of money is raised. The number of people who have said to me, "I'd pay just not to go," says it all.